The Party Film Review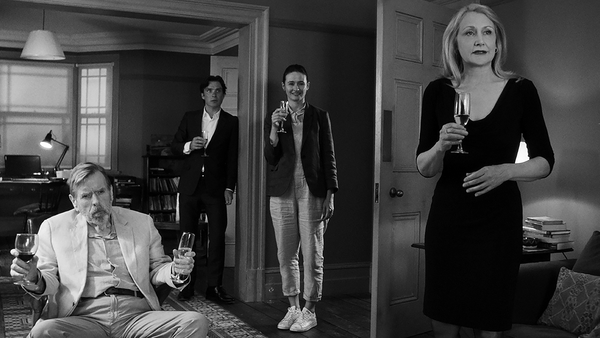 Parties.
You love them, I don't… though I might make an exception for Sally Potter's new film, The Party.
Janet is throwing a party to celebrate becoming the new shadow health minister in her apparently useless opposition political party.
Of course, everyone knows the only useless political party these days are the incumbent tory government.
Janet's husband Bill is in charge of music for the occasion, but it seems as though he's far from here as he sombrely stares into the middle distance.
Dropping by for some blackened vol-au-vents are a collection of friends, family and acquaintances.
There's Janet's acerbic sister April, who is in no way, shape or form bitter about her sister's successful career.
April's space cadet husband Gottfried, who is left in no uncertain terms about how just inadequate his wife thinks he is.
And she's not afraid to share this with the class either.
Then there's university Professor Martha, who's an old friend of Bill's, and her girlfriend Jinny who has an announcement of her own on her mind.
Finally there's filthy rich banker Tom, who's more a friend of a friend – but has dropped by to partake in the happy occasion none-the-less.
And before the night's out, Tom plans to partake in quite a few other things too.
Shot in black and white, The Party is a short blast of sharply observed laughs that acted as a refreshing tonic during last month's London Film Festival's marathon of movies.
Played out like a play, Potter's film succeeds thanks to its dry dialogue and perfectly assembled ensemble cast.
Kristin Scott Thomas, Cillian Murphy and Timothy Spall are the star names, but it's the double act of Bruno Ganz and the delightful Patricia Clarkson who steal the show as well as all the biggest laughs.
And much like the perfect party guest, The Party doesn't outstay its welcome.
Jonathan Campbell