You Were Never Really Here Blu-Ray Review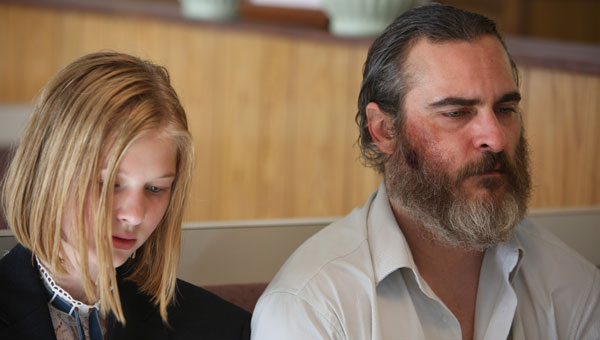 I have an idea for a Joaquin Phoenix film.
Phoenix plays himself as a luckless gambler who gets in deep with the mafia to feed his raging addiction for slow horses and fast women, before going on the lam when his gangster loan-sharks realise our boy can't pay them back.
My working title is Whacking Phoenix – and, somewhat disappointingly, I'm still waiting for a bidding war to break out.
You Were Never Really Here is not that film – for starters, it's good.
Joe is a brutal vigilante for hire in the seedy underbelly of some american city, which I'm hoping is Los Angeles – if only for poetic licence.
And in this city of lost angels, Joe deals in old testament, wrath of god style vengeance as a fallen angel type who tracks down lost girls and metes out his own brand of biblical judgement on whoever has kidnapped them.
But Joe may have bitten off more than he can chew – or more accurately hammer – when his latest abduction case spirals viciously out of control, dragging our avenging anti-hero into a life and death battle.
I first saw You Were Never Really Here at last year's London Film Festival and, even through the overwhelming drudgery and steady fug of multiple daily screenings, it stood out rather disconcertingly from the crowd.
Visceral and urgent, director Lynne Ramsay of We Need To Talk About Kevin infamy, creates a disturbing and claustrophobic atmosphere as we follow Joe on his reign of terror through the heavily protected and clandestine bordellos he fights his way through.
Surveillance cameras that follow our every move in real life are now used to document Joe's journey through the criminal underworld, as we become voyeurs on Joe's violent journey to redemption – without ever quite being told what his very personal demons are.
All we know is GI Joe has a military past and a quasi Norman Bates style upbringing to boot… which would be enough to send anyone over the edge.
Jonny Greenwood creates the perfect auditory accompaniment with another whirring, clanking cinematic score that ratchets up the tension, while Joaquin Phoenix is, well, Joaquin Phoenix.
Most disturbing of all, You Were Never Really Here comes from the mind of Jonathan Ames – the same man who penned cult tv stoner comedy Bored To Death… the contrast between the two could barely be more stark.
I guess you never can tell what lurks buried beneath the surface.
Ramsay's graphic take on You Were Never Really Here is open to interpretation, which some people will like and some people won't.
But it'll make you feel something one way or the other, which is probably the only thing my Whacking Phoenix screenplay will ever have in common with this.
Jonathan Campbell