Happy Death Day 2U Review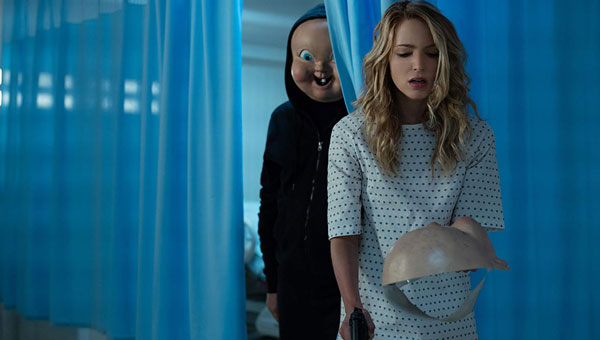 Happy Death Day initially sounded to me like a moronically-titled slasher flick from the eighties, but I then heard good things about its originality and performances.
True enough, the whole Groundhog-Day-meets-slasher-movie was a fun idea to begin with, and the cast, especially Jessica Rothe in the main role, sold the whole idea all the more.
It was also interesting to see a horror archetype (the superficial sorority chick) take centre stage and see some character development.
I was very interested to see where Happy Death Day 2U would take the idea – it could either be good or disastrous.
We open with a secondary, in fact pretty much tertiary, character from the first film (Carter's roommate, Ryan), who finds himself going through a similar experience to Rothe's character Tree: he is stabbed to death by a masked killer and wakes up to find himself living the same day over.
It turns out that Ryan and his buddies (played by Suraj Sharma and Sarah Yarkin) had been recently dabbling in all sort of quantum chicanery in the course of their college studies and this has resulted in various timeloops, such as the one featured in the first movie.
Tree muses at one point that she thought there was more of a cosmic reason for her experience than a science experiment gone wrong, such as coming to terms with her mother's death. This raises a good point: do the events of the first film need an explanation? Probably not, but here we are anyway.
After Ryan recounts his experience to Carter and Tree, they resolve to help. Suffice to say the film takes some serious twists and turns from there.
The first film referenced Groundhog Day in its final scene, which was highly redundant: we all got it. This time around, given the genre tweak from slasher to sci-fi, the script feels the need to early-on draw its parallels with Back to the Future 2; which neatly summarises the territory we are in this time around. The goal is to resolve the all the havoc caused by the quantum experiment, rather than catching a killer. There is still a whodunnit element, but it feels tacked on.
There was one moment which admittedly felt off: an upbeat montage of suicide scenes which, unlike Bill Murray's workmanlike run of the same in Groundhog Day, felt a little off.
All said, the movie is extremely good fun and not to be taken overly seriously. It wasn't necessary to explain the time loop, but this choice allows existing characters to be fleshed out and taken in new directions, as well as introducing new characters such as Ryan's lab partners and idiotic Dean Bronson (Steve Zissis).
Writer-director Christopher Landon has some good material on his hands here and let's just hope he knows when to call it quits. A Marvel-style mid-credits scene does not bode well.
For right now, what higher praise can you give the sequel to a film about reliving the same events over and over, other than say that it tries to give you something different and mostly succeeds?
Conor Brennan