Amazing Grace Review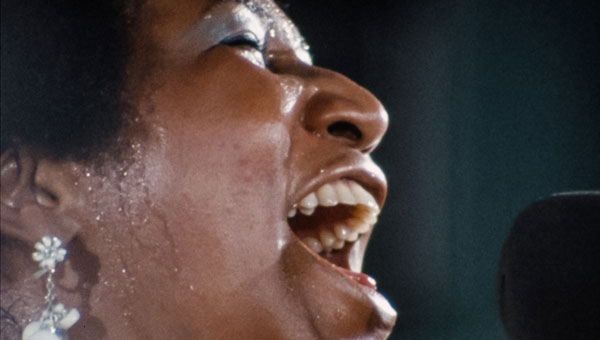 I must admit, it wasn't until seeing The Blues Brothers movie that I first knew who Aretha Franklin was. I would listen repeatedly to the soundtrack on vinyl, hearing Aretha give Matt 'Guitar' Murphy a hard time about potentially leaving his life with her to go on the road again.
I realised, as I grew up and experienced other music, that Aretha was my favourite female vocalist of all time, perhaps rivalled only by Ella Fitzgerald.
I therefore set off to watch Sydney Pollack and Alan Elliot's Amazing Grace with high hopes that it would be both informative and moving in its recounting of Aretha's life, which sadly ended last year.
As it turns out, the film was not a documentary, as I had thought, but a concert film; this made it no less informative or moving.
The film covers Aretha's recording of her live album Amazing Grace at the New Temple Missionary Baptist Church over the course of two nights in Los Angeles in 1972.
She was already known as the Queen of Soul by the end of the 60's and, in the early 70's, could have recorded any album, anywhere, anyhow. We learn that she opted for a live album to do something different from her recent work and to reconnect with her roots as a gospel singer.
Warner Brothers hired a young director by the name of Sydney Pollack, already with a few films under his belt, to cover the recording. The rest is, literally, history.
The film opens with the Southern California Community Choir making their entrance, after which Aretha is introduced by the Reverend James Cleveland, a man with churchfuls of charisma.
The concert opens with a few old favourites such as Holy Wholly and What a Friend We Have in Jesus, but it's the more recognisable songs such as You've Got a Friend and Amazing Grace which packed a greater punch, in my case anyway.
The Ole Landmark, later performed by James Brown in The Blues Brothers, particularly got my foot stomping.
The second night of the recording proved more emotional, with appearances from Aretha's influences Clara Ward and Mahalia Jackson, as well as her father, C.L. Franklin.
The film features other notable faces, such as legendary Bernard Purdie on drums and Mick Jagger in the audience. In yet another Blues Brothers movie reference, I'm pretty sure I spied Alonzo Atkins, who later played the choirmaster in that film.
The star of the show is obviously Aretha, and this film highlights, in a way no mere documentary could, her unparalleled dignity, presence and, above all, her talent. Singing like a woman possessed, she captivates and thrills with every single note.
If you're expecting an hour and a half of Aretha belting out her greatest hits, you might be disappointed; but if you want the next best thing to a front row seat with the Queen of Soul singing her heart out, this is just the ticket.
Conor Brennan