Thunder Road Review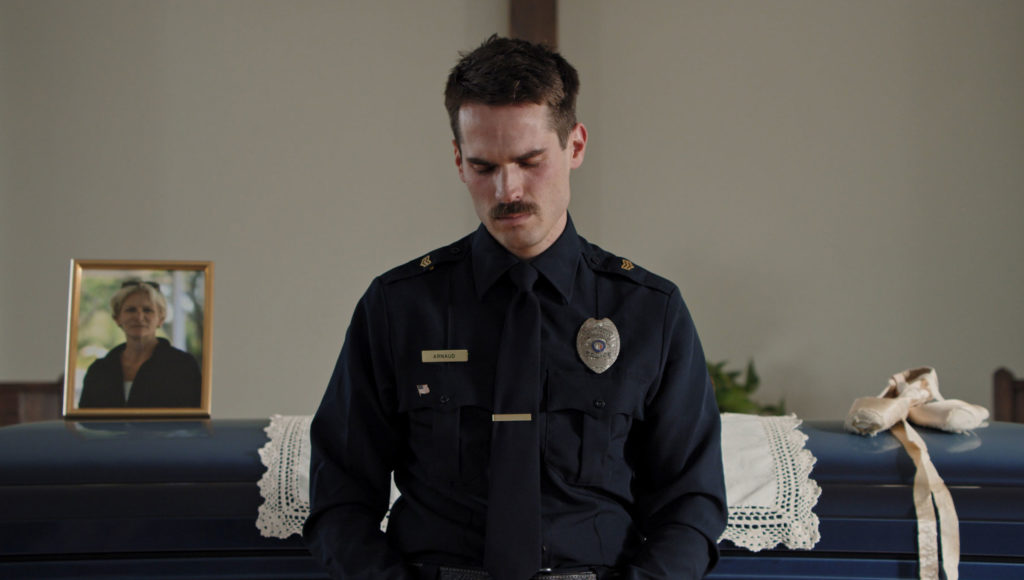 Jim Cummings' low budget black comedy Thunder Road opens, as is customary with most of the films I watch these days, at a funeral.
Jim has requested to perform the eulogy at his mother's memorial. Immediately it is clear this is a grave mistake. He is unprepared and foolishly disregards his notes, the rawness of loss too much to bear. The tribute becomes a rambling stream of consciousness.
The massed mourners' sympathetic, comforting noises soon shift, initially to uncomfortable silence, then to gasps of disbelieving shock as Jim, dressed in his police uniform and holding a child's portable stereo tightly in his hands, gradually comes apart.
We learn that the relationship with his mom was complicated, his childhood was difficult, but that he loved and admired her dearly. Jim is broken, alternating from wistful, sepia-tinged nostalgia to full blown anger, remorse and shattered devastation in the same sentence.
The scene plays out over a single shot, the camera never leaving the protagonist. It is extraordinary. He laughs, scowls and sobs violently all at once.
To watch this is to be transported into the room with the other mourners. It's impossible not to laugh and at the same time gnaw at your fist at the excruciating awkwardness of it all.
Eventually, after a long pause whilst a technical issue with the stereo cannot to be resolved, Jim performs a poorly judged dance to his own verbal commentary of Bruce Springsteen's Thunder Road, her favourite song. Think Spike Jonze dancing in a shopping precinct whilst failing to adequately describe a Fatboy Slim song.
The entire sequence is painfully exhilarating and exhausting. By the time the opening credits rolled I felt like I had stormed Omaha Beach with Tom Hanks.
Jim, played by the film's writer and director Cummings, is experiencing a nervous breakdown. A decorated police officer whose life has unravelled since his wife and daughter walked out. His continued erratic behaviour has put his career in jeopardy.
He battles for joint custody of Crystal whilst setting up a new home and refurbishing his mothers former dance studio to help preserve her legacy.
After defying an order to take enforced leave from work to get his life back in order and, having been a bit too hands-on whilst dealing with one of the harmless local bums, Jim is relieved of his duties.
His ex-wife Rosalind and her new partner sue for full custody of Crystal and advise of their plan to move away once this is resolved.
The subsequent hearing goes about as well as the recent eulogy, a mobile phone recording of which has since gone viral in the local community and subsequently been used by Rosalind in evidence against his suitability as a father.
Faced with the reality of losing everything Jim takes to drinking the pain, and his life, away.
Darkly comic and bitterly unapologetic, Thunder Road is as difficult a film to watch as its protagonist is difficult to like. A man almost genetically hard-wired to continually makes terrible decisions, Jim
refuses to try to understand how to make amends with his employer, wife, concerned friends or daughter. His attempts to bond with Crystal, perfectly played by Kendal Farr, are comically inept.
Yet despite this, there is never a moment when you don't utterly root for Jim and his possible redemption. Cummings brilliantly captures the hopelessness of an emotionally crippled man on the edge, entirely unequipped to deal with life without a wife to love, or a mother to steady him.
And this is what makes Thunder Road so captivating, right from its wonderful opening set-piece. This is not so much a feelgood movie, or the inspirational cathartic journey of a flawed man; but rather an exhausting, uncompromising and intensely watchable portrait of a train wreck in human form. I cannot recommend it highly enough.
Frank Gardiner