Two Popes Review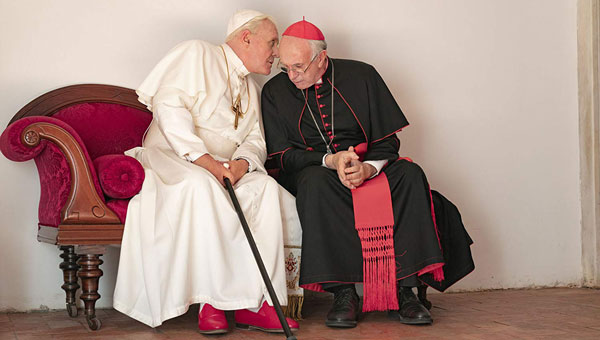 Do not be deceived by The Two Popes and its subject matter, as on first appearance it would seem that a film inspired by real-life events surrounding the most recent papal transition might not be your traditional, light-hearted, date night fare.
Perhaps mercifully it did not go so low brow as to re-imagine your correspondent's self-written and unfinished joke about the Vatican army's favourite vegetable.
However Brazilian director Fernando Meirellles, whilst in no way diminishing what were pretty seismic events rumbling beneath the Vatican City in the early part of the decade, has created a surprisingly light of touch, often warm, humorous and touching film.
Following on from a delightful opening credit where The Pope tries to book a trans-Atlantic flight via telephone, the film's intro sequences are set within the travertine clad walls of The Vatican; where the Procession of Chancellors huddle together to elect a new pontiff following the death of Pope John-Paul II.
It soon emerges that there are two serious contenders for the Bishop of Rome championship belt, along with its consequential beneficial use of the company pope-mobile. Portrayed by British screen heavyweights Anthony Hopkins as Cardinal Joseph, 'the money was resting in my account' Ratzinger and Jonathan Pryce as Cardinal Jorge Mario 'that would be an ecumenical matter' Bergoglio, it is clear that both holy men have vastly contrasting ambitions for the onward direction of the Catholic Church.
Ratzinger is the distant, dyed in the wool traditionalist, adamant that recent failings in the Church have arisen as a consequence of religious leaders not being conservative enough. His relationship with Bergoglio is decidedly cold. The Argentine, far more a man of his flock, argues that the church must modernise and change with the times in order to engage better with its people.
The German Ratzinger, whose formative ties with the Hitler Youth movement are occasionally referenced, is duly elected Pope Benedict XVI and it is here where the film's true dramatic thrust is revealed.
A few years later Bergoglio travels again to Rome to hand deliver his letter of resignation as Cardinal of Buenos Aries in order to return to Parish priesthood again. Pope Benedict rejects his resignation, and discusses with him his plan to step down from the papacy, pushing his erstwhile rival to replace him.
The two men wander in the grounds of the papal summer retreat, drink wine, discuss music and football, fly in a helicopter and eat takeaway pizza; all the while considering their conflicting ideologies and futures, both for themselves and that of one of the world's foremost institutions.
In what would be an action almost unheard of in the history of the church, the Bergoglio is stunned and dismayed at his leader's intention to step down from his duties. Believing that it will irretrievably damage the Papacy, he wants no part of it, or to assume the responsibility of becoming Benedict's successor.
Aging, diminished and acutely aware of his involvement in public scandals around Vatican corruption and child sexual abuse, Benedict now believes his former rival to be the progressive future of the Church.
Bergoglio in turn feels he is compromised from mistakes he made in his early years as a Jesuit priest, as we learn in effectively edited flashback scenes during Argentina's military junta.
But as the film develops we learn more about both men, not via their history, or ideology; but rather in the unlikely and gentle friendship and mutual respect that blooms as they get to know each other better.
And Merielles has fun with this, their differences exploited for comic effect. They bicker, antagonise and tease one another. The two leads excel, particularly Pryce, who not only is convincingly multi-lingual but also looks remarkably like the real life Pope Francis.
Although a tad too long at over two hours The Two Popes or, as I shall be describing it henceforth, The Odd Couple 2 – Men in Dresses, is a charming and affecting re-enactment, offering a fascinating snapshot of what life could well be like inside of The Vatican.
Frank Gardiner