Underground Railroad: White Night Stand Review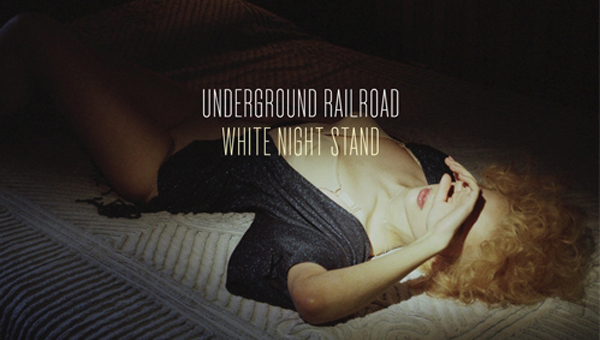 In spite of what some people may think, I've never been a fan of one night stand's.
That first time you have sex with someone new is usually the most awkward, so after a few sobering experiences it stops making sense.
Really, just me?
Fine.
Still, I've no qualms about confessing my predilection for White Night Stand, Underground Railroad's third album release.
With their first two records having passed me by, as is the norm for most any band trying to establish their name in our saturated music market, I was pleasantly surprised by White Night Stand's fusion of blues style rock with modern electronica sentiments.
In fact, it's entirely possible these three Parisian émigrés have invented their own hybrid musical genre which, providing no one else has already coined the phrase, I think should be christened "bluestronica".
For the uninitiated amongst you, which included myself two short months ago, Underground Railroad are Raphael Mura, Marion Andrau and the enigmatic JB Ganivet; nobody quite knows what the JB stands for, but I imagine it's a mystery as great as it is simple.
These three fledgling musicians met whilst studying in Versailles many moons ago and decided to align their musical stars and form a band. After an impromptu rummage through a nearby dictionary in search of a fitting band name, Underground Railroad was conceived in 2003.
And before you ask, there's no correlation with the network of secret routes and safe houses black slaves used to escape their oppressors in 19th Century america.
Fast forward eight years, two full albums – Twisted Trees and Sticks & Stones – as well as countless European tours later; the composite experiences of which have formed White Night Stand.
Having listened to their earlier material, which is much bluesier in origin, it's fair to say Underground Railroad's new album is a musical leap forward both in the quality of their song writing and their production proficiency.
Singles Russian Doll and Ginkgo Biloba are prime examples of this evolution of their music, allaying shimmering studio effects and distortion with the stripped down sound of lead guitar, bass and drums present on Underground Railroad's earlier material.
As with previous albums, Mura and Andrau share singing duties throughout; and this alternating of vocals provides a refreshing dynamic to White Night Stand.
Mura's lyrics, found on both singles, are a seemingly cathartic affair; using his real life experiences as inspiration and rattling off lines about the weirdness of meeting new people and not understanding how they function.
Andrau's words are more ethereal in nature, which may have something to do with learning english as a second language or the transparent influence David Lynch has over song titles such as The Orchid's Curse and Traces To Nowhere.
Either way, it seems Underground Railroad have struck a balance between mystery and familiarity in their music; pairing Mura's defined lyrics with their more experimental studio adventures then switching this formula for tracks Andrau sings on, where straight edged sounds contrast with enigmatic thoughts that accompany them.
The result is a bewitching concoction that makes Underground Railroad's music feel accessible and recognisable, whilst remaining essentially idiosyncratic in nature.
There's a progressive element to White Night Stand too, amply displayed on Seagull Attack's hypnotically repeating guitar riff that spirals into sweeping cello movements provided by regular live guest Anna Scott.
These touches ensure you engage with the music Underground Railroad have crafted, as White Night Stand mixes classic rock and roll sensibilities with electronic flourishes in an intelligent and seamless fashion.
So why not live a little vicariously this summer and enjoy a White Night Stand with Underground Railroad.
Jonathan Campbell