Underground Railroad At Camden Barfly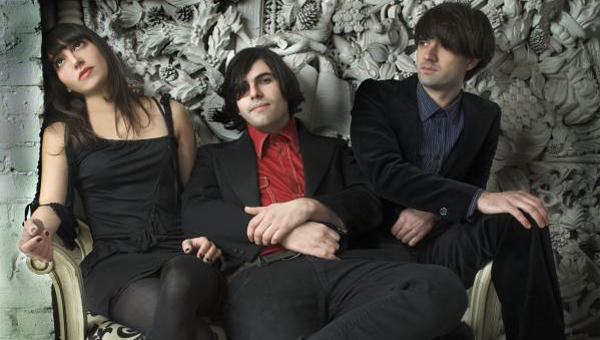 As a casual gig goer from a bygone era, The Camden Barfly is a venue I've always approached with trepidation. Despite the mythology surrounding this supposedly seminal, alternative music nursery, I've yet to see an act of any note or even promise there.
Not forgetting the time I got a nasty electric shock from the fag machine.
But I've decided to be the bigger man and chalk this down to coincidence tonight; entirely down to my distinct lack of sobriety, glass half empty outlook on proceedings, although at least this explains the first part, and poor maintenance of the in house cigarillo machine.
Ably assisted by a couple of temporary happiness facilitators in one of Winehouse's many locals just around the corner, I feel able to approach the evening with a clean slate.
So as I stroll towards the venue on a typically balmy London summer eve, replete with one wet sock from a chance encounter with an unseen puddle, I resist the temptation to share my sense of squelchy foreboding with my escort for the night.
Instead, I opt to keep my own counsel and simply take a mental note as the Barfly's safety conscious bar-gent pours our bottled beer into plastic containers despite our protestations. Drawing a line under our chequered past, I steadfastly refuse to sulk whilst contemplating my less than half full beaker.
At least now I won't have the option of launching my missing bottle at the stage should the music not be to my liking.
You see, my beaker is half full.
Ominously, events take a predictable turn for the blooming worse as the first act appear as incomplete as the "glass" in my hand. The customary and well worn route of employing the services of a drummer seem to have been eschewed by this duet; replaced with a drum loop from a Casio keyboard.
It turns out slapping your bass a bit harder is no substitute for a little rhythm either.
Whilst frequenting the gents, I contemplate an early exit; thinking of how I could have been at home to kiss my darling children good night instead of this. I guess The Barfly and I are not meant to be.
File it under E, for "even worse than ever".
But as I resurface, it's as if someone's switched a musical light on. Gone are the haplessly ramshackle outfit whose name isn't worthy of remembrance, replace instead by the main support act of the night.
Scanners are an impeccably taut four-piece with stage presence and anthemic refrains reminiscent of Funeral period Arcade Fire, lifting my mood so drastically that it feels like I've been grabbed by the shoulders, given a good shake and implored to pull myself together.
Although occasionally drowned out by her musical accompaniment, I feel obliged to follow wherever lead singer Sarah Daly threatens. Which is apparently to the grave; something their femme fetale with shoulder pads repeats with no little conviction.
As I wonder why an outfit this polished are playing an upstairs room in a Camden bar on a Thursday evening as a support act, my curiosity is piqued when Daly announces Scanners are soon to be embarking on a Stateside tour.
Well get them. I just hope their chorus' have applied for a visa too.
Bar duly raised, I fret that tonight's headline act may not be able to live up to the standard set by the warm-up; despite the wave of critical acclaim Underground Railroad's recently released third studio album, White Night Stand is currently riding high on.
For the second time this evening I am pleasantly surprised. Although similar in sensibility to Scanners, Parisian three-piece Underground Railroad are far looser musically. In fact, they're reminiscent of indie legend's Sonic Youth.
From new album opener 8mm, which manages to sound both atmospheric and catchy to the hypnotic, epic and rather magnificent Seagull Attack; a song featuring the first known middle 408 in the entire history of popular music. Underground Railroad produce a layered and cinematic sound, occasionally bordering on the downright dirty.
Tonight they're joined by cellist Anna Scott, a welcome addition who underpins the oft chaotic melodies created by her cross channel colleagues whilst also catching the eye of my date for the evening. A neat trick and in a parallel universe most convenient as I have developed quite the crush on joint vocalist and guitarist Marion Andrau.
But then I've always had a thing for French girls. Who smoke. And play Guitar. Mon Dieu.
At the end of an all too short set that strangely didn't include Ginkgo Biloba, the current single off their album, I make an escape to my own private Underground Railroad in the light of an astonishingly full moon.
I congratulate myself on remaining positive in the face of my overwhelming barfly odds; truly no more than I deserved.
Perhaps more importantly, Underground Railroad could be arriving at their merited destination sooner than they think.
Frank Gardiner