Julia Biel At Zigfrid Von Underbelly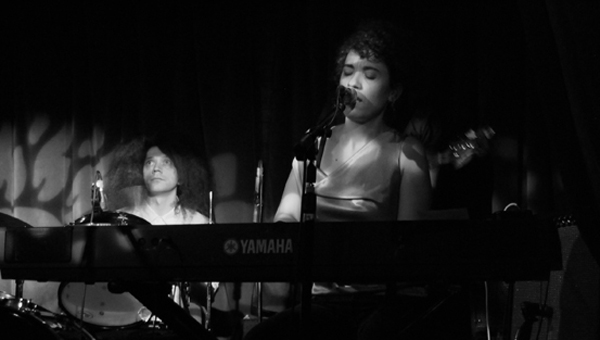 Preparation; it's the watchword for any self respecting journalist.
As I fumble with a notepad and my mind outside Zigfrid von Underbelly of Hoxton Square, desperately trying to collect my thoughts long enough to jot down a dozen coherent questions, it's clear this train has already set sail for tonight.
There are mitigating circumstances, for sure. Playing editor for a growing roster of writers being prime amongst them.
It seems the virtue of editing their own words is lost on many a writer. Far too much like hard work, especially when I can do it for them.
And so much better than they ever could.
Yet the knock on effect this has on my own writing and preparation is starting to tell.
My recent written thoughts are not honed as perfectly as my virgo mind demands; writers get upset that their precious words sometimes sound more like me than them by the time I've published them.
To which there is a very simple solution; do your own bally editing properly in the first place. Or just to the prescribed deadline so there's enough time for me to indulge their precious ego.
*sigh*
And, of course, a lack of preparation for would be interviews with some of London Town's brightest yet under represented stars of music and stage.
Tonight, this happens to be Julia Biel; British singer, songwriter, multi-instrumentalist and proud recipient of Perrier's Vocalist of the Year award back in 2000.
Since then, Julia's self produced her debut album "Not Alone" in 2005 and featured on many a musical collaboration; including Ben Watt's Guinea Pig, who's more famous as the xy half of Everything But The Girl, and Sebastian Rocheford's Polar Bear outfit.
I know all this as I was able to print off her wikipedia profile before leaving the office earlier.
A-ha, research!
Now, with the assistance of my photographer for the evening, I'm using this print out as the basis to hurriedly concoct some interview questions for the fifteen minutes I've scheduled with the talented Miss Biel post Zigfrid show tonight.
My esteemed visual content friend tells me to relax and offers to help with my research and development for said interview.
Just as with every other smug, iphone owner I've ever had the misfortune of welcoming into my life, Soundbite's resident photographer needs no second invitation to whip out his multimedia device and slap it onto the table for all to see.
Or even a first one come to think of it.
Mere moments later, a suspiciously familiar sounding biography for Julia Biel is being read aloud to me.
I slide the wikipedia profile across the table and tell my doctor of visual language to keep on looking as I've already covered this base.
In the following hour, we must have this same conversation almost half a dozen times. The only difference being my increasingly hysterical reaction to each instance.
The fear has started to take hold of my mind now. Either that, or I need to learn how to get my business affairs in order before I start drinking.
Time ticks away with no discernible signs of progress, but still not enough to focus my mind, before an act of god helps me in my interview writing cause.
On his way to the bar, my photographer managed to set eyes on a particularly melodramatic female acquaintance of his from the past that distracts his mind for five minutes.
Seizing this window of opportunity away from my friend's help, I'm finally able to think logically and finish up my interview assignment.
Free from the pressures of meeting this deadline, we're now able to descend Zigfrid's stairs to the music venue for the night.
The stage is rather splendid; situated in the corner of the bar with thick, plush furnishings and an elaborately oversized mirror opening up one of the three sides.
Julia takes to the stage with her collection of musicians she's assembled for the evening, which includes monsieur Rocheford on drums, and opens with a debut performance of new song Diamond Dust.
A little perturbed by his earlier encounter, my photographer hurriedly completes his duties for the eve before begging off home. Having intimate knowledge of his past with this girl, I don't protest and send him off into the night.
Turns out it was his loss, purely for the music as opposed to anything else.
After a distinctly Sunday morning coffee table introduction to her music, with Miss Biel playing keyboard on the first few songs of the night, there's a change in tempo as she vacates this musical box and takes centre stage.
When playing guitar on songs such as Secret Party and We Watch The Stars, there's more energy in Biel's music. Perhaps it's because all the boys in her band get to play with their instruments on these numbers too?
Whatever the reason, there's a greater fire on these tracks that suck you into Biel's musical world.
But the real draw of the gig is Biel's singing, which is highlighted on another new song Nobody Loves You Like I Do. Her idiosyncratic style bears resemblance to half a dozen modern female singers, none of whom I'll name check here as Biel was singing this way before her peers found mainstream success.
A more accurate description would be comparing these 21st century sirens to Julia Biel's voice rather than t'other way round.
There's an eclectic vibe to the music on display, topped off with the progressive groove and heavy drum crescendo that closes Til Tonight.
After the music's over and they've turned out the lights, Julia politely asks if we can arrange the interview for another time.
With her band to look after, set to pack up and a gig in Germany beckoning later that week, Miss Biel's time is all too short for tonight.
Having been sucked into my own creative vortex of late, I sympathise and let her go attend to other commitments.
It seems I wasn't prepared for being consumed by what I do either.
Words by Jonathan Campbell, photography by Time Green