Errors At The Roundhouse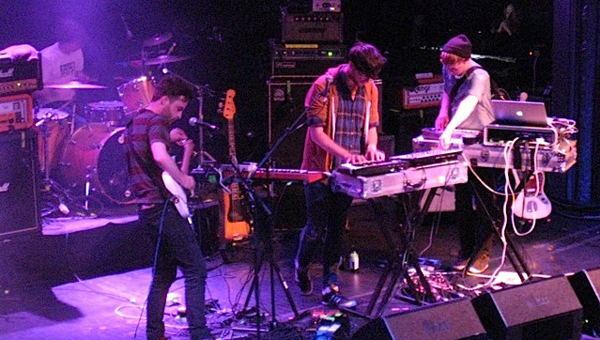 The importance of being early is a virtue that's long been lost on me.
I'd rather wrap a hair band around my wrist than a timepiece, which is a perfect illustration of where my priorities in life are.
My hair's far more important to me than other people's time, and anyone who's seen my mane of follicles would no doubt understand.
Naturally, I've paid for this choice with some all too predictable consequences.
Like the time I showed up late to one of my magic friend's plays, strolling in after everyone else without coming close to realising what a faux pas disturbing the illusion of reality is in theatre.
That was an interesting night, and the drama only really began once the play was over.
Still, I learnt two things from this; first off, mastering the art of apologising is the key for any relationship to survive longer than three weeks.
For me at least.
And second, despite what I may think, this world does not wait for me to arrive before spinning on its axis.
Which is why I've never been late for a performance since. Most everything else in this life mind, but never a performance.
So, as I casually select the appropriate gift come pre-meditated apology in expectation of my late arrival for this evening's date, I still feel relaxed; safe in the knowledge that even though I'm late for my friends, I've plenty of time before Glaswegian post rock electro outfit Errors take to The Roundhouse's main stage.
Once my apology and dvd have been accepted, we try out a couple of camden public houses before settling on one that meets my rather simple criteria. Our chosen establishment is not yet infested with london town's most nefarious disease, people, whilst still housing a string of attractions from around the world behind the bar.
Retiring to the still half empty beer garden as a throng of polo shirt wearing, chavtastic twentysomethings swarm in behind us, it seems my timing is definitely improving with age.
Me and my erstwhile doctor of journalism proceed to talk about nothing and everything; filling time and space with sounds when all we're really just killing time until one of the arty girls who doubles as a waitress swings by to clear away our empties.
One in particular, combining denim hot pants with Parisian grace, pays particular attention to our table. And as she pouts in our direction, it would be plain rude not to reciprocate.
And as we're still on time, it's all good.
But when we slip inside The Roundhouse, I see Errors have taken to the stage ahead of the allotted timeslot their pr girl assured me of.
C'est la vie.
Walking into the venue with the now vaguely familiar strains of Magna Encarta echoing around this iconic venue, it seems we haven't missed too much of tonight's action.
Admittedly, Errors only really came to my attention through their association with fellow Glaswegian outfit Mogwai who they're supporting tonight. Having also signed up to Mogwai's very own record label, Rock Action Records, and just returned from touring America with them, it's clear their Scottish brethren have faith in them.
And it's not hard to hear why, as Errors sound not only treads similar musical ground to Mogwai but is worthy of your attention in it's own right.
Tonight's highlights include signature track Mr Milk, a shimmering swirl of bleeps, beats and ice cream melodies; Pump, with it's keyboard driven harmony underpinned by a layer of deeper bass sonic effects before a siren cries out for attention as well as the cinematic sounds and musical evolution of Errors latest single release Magna Encarta.
Once the purple light show fades away and Errors tight set comes to an end, I can't help but feel as though their more experimental and varied sound is musical evolution from the immediate post rock scene Mogwai have inhabited.
With their predilection for beeps, blips and computer conducted sonic effects as part of their musical make up, it's hard not to conclude that Error's live sound is both fresher and more interesting than the hypnotically repetitive guitar riffs Mogwai will no doubt bring to The Roundhouse.
So while I may never be early for anything, tonight feels like a time when I wish I had.
Jonathan Campbell