The Black Angels At The Scala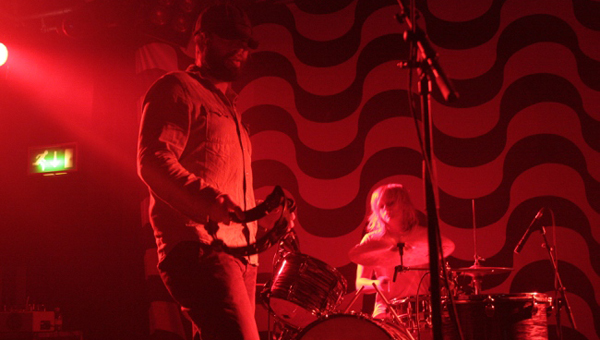 Word of mouth following The Black Angels killer live shows this summer has done a good job gathering people at their autumnal London gig.
In four words, it's a sell out.
With its striking black and red gamut coupled with strategically-placed balconies that circle the stage, Scala hardly lacks in atmosphere. It only needs those psyched Texan sounds to take us off on an illusory journey into space and time.
In charge of the fussy warm-up are Seattle's Night Beats. They waste little time in hastily awakening spirits of sixties psychedelic rock, channelling the sounds of 13th Floor Elevators amongst others. The Beats hallucinogenic excerpts from their self-titled debut ensure their first London gig will stick in the minds of tonight's revellers.
While James Traeger drums wild and Danny Lee Wild plays dirty guitar, Tarek Wegner goes further when deliver his distinctive bass lines. Assuming responsibility as the band's "rockstar" attraction, he jumps on and off monitors before ending up flat on his back. It's quickly business as usual though, as Wegner picks up his pace and makes for the crowd. I realise that sleek showman moves, or not in this case, Night Beats soulful and haunting garage sounds do the work.
Ringing true to their sinful garage past, this Seattle outfit are definitely ones to watch out for. The Black Angels, on the other hand, connect to that first and authentic Texas blast of the past both sonically and geographically. Yet there's something undeniably revitalizing about their sound. Their forward-thinking music sensibility is the reason they so seamlessly complemented U.N.K.L.E.'s electronic soundscapes on With You In My Head, a moody piece of work surprisingly supplied by The Twilight Saga: Eclipse soundtrack.
The Angels' third full-length album, Phosphene Dream, also widens their neo-psychedelic palette. Passing from the classic Velvet Underground, who inspired their evocative moniker, The Black Angels are surprisingly retro stomping and even cheery by their standards on Telephone. This tune is the one basic change of attitude on their live take though, with that dark, obsessive, mid-tempo rite doing a number on sucking you in.
With his cap precisely settled just above the eyes, frontman Alex Maas leads the way as Angels' dive into shadows past and present. Excerpts from second album Directions To See A Ghost like Mission District remain a highlight, as are Maas' sudden cry-outs with their dramatic, nightmarish vocal effects.
Stephanie Bailey's rabid drumming aside, this Texan quintet ooze sinister, sexual power. Seamlessly swapping places on stage whilst adding musical intrigue with their percussion and keys, The Black Angels' undisturbed coolness dangerously flirts with monotony. As their hypnotic beats go on, and they do, you almost start to wish for one false move or note.
No doubt there are sophisticated fluctuations throughout their challenging and insightful rock spectrum, but perhaps The Black Angels are not capable of going that extra mile; one that would really shatter an audience's pre conceptions and make their live shows truly unforgettable.
Words & Photography by Danai Molocha