Zelig Review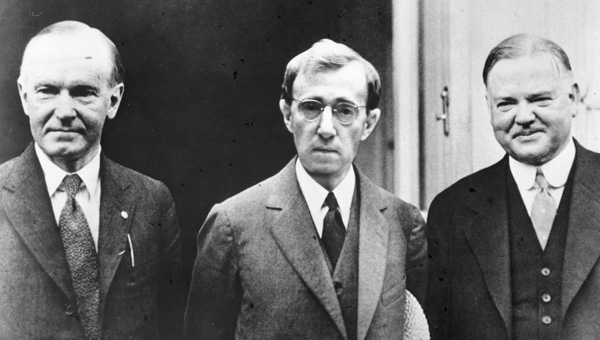 Neurotic, self-sabotaging, honest, slightly bewildered and always guffaw-provokingly surreal.
This is the Woody Allen "persona" familiar to anyone who's seen one of his stand-up routines or idiosyncratic silver screen performances.
But in Zelig, this carefully cultivated persona is crucially absent.
Leonard Zelig is a man who has forsaken his own persona for the sake of safety. Afraid to do anything objectionable, Zelig has been a chameleon since his youth when he first lied about having read Moby Dick just so he could fit in at a party.
Able to alter his ethnicity, weight and even psychology, Zelig automatically and unconsciously assumes the most accommodating form he can for whatever company he finds himself in.
Naturally, this unique ability soon leads to Zelig being exploited as both freak and celebrity. He's protected solely by the devoted, tireless and irresistible efforts of psychiatrist Dr Eudora Fletcher; whose own visage, constantly on the cusp of becoming forlorn, is the tender counterpoint to the crass exploitative gaze the public fixes on Zelig.
It has always been difficult to imagine how Woody Allen, a man whom I can so closely identify with, could have sat down to write something so transcendent and assured as this.
Presented as a fictional documentary, Zelig is lean to the point of being unobjectionable. Sensitive and bold, telling a seemingly simple allegorical story in an irresistible style it is in its own way the distillation of all that Woody Allen has brought to the art of filmmaking.
A poem of a film, Allen's script is full of one-line jokes that make you shake your head with satisfaction even as you laugh and launch pad rhymes that send the mind off over the mountains of history and down into the simple depths of our insecure souls.
Allen has responded welcomingly and talked at length about the political and philosophical implications of the film, with its relation to fascism. The character of Zelig is charming and, in his malleability, sweetly innocent, yet the message of his film is that those who follow the crowd are ripe to be moulded by a persuasive leader.
And may give themselves up to the most horrible acts of personal betrayal.
It would be remiss of me to exclude the film's astonishing technical achievements too, with its faked period footage indistinguishable from the genuine scenes of history used.
As a portrait of the Jazz Age hailing back to the early twentieth century, Zelig is a diamond as big as The Ritz; the universe in a grainy frame of film.
And in its protagonist, Allen has created an immortal cinematic character whose life story is at times the purest example of such a sinister violation of human potential.
James Munroe
Zelig is back in cinemas from Friday 30 December as part of the Woody Allen season at the BFI Southbank.