Alex Winston Interview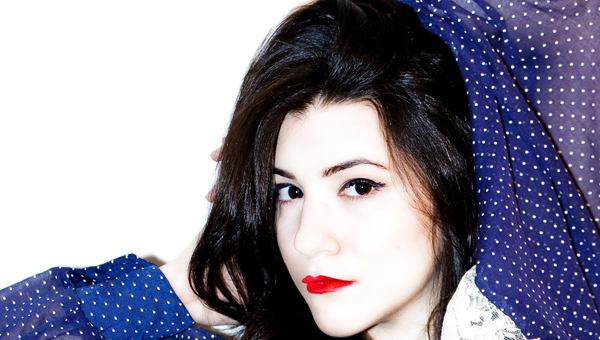 Alex Winston's debut album King Con was released in March and has been lauded by critics for its bold song-writing, avant-garde lyrics and power of Winston's powerhouse vocals. On the last night of her European tour, Soundbite Culture caught up with Alex on the roof of XOYO in Shoreditch to talk about her creative process, reactions to King Con and Chuck Berry.
Soundbite Culture: This is the last night of your massive UK and European tour. How's it been?
Alex Winston: It's been really good. I'm tired! It's been fun, every crowd has been very responsive which I appreciate so much because I totally feed off the audience, probably more so than I should, but if I can see that people are having a good time it makes me more focussed. London's always the scariest show, because it's waiting for you to impress them.
SC: Was this your first time performing in Europe?
AW: No, we've done it a couple of times, I actually didn't do the German dates because my bass player had a bit of an issue and had to come home, we actually had a new bass player who's only played once with us, so we didn't do the German dates but I've been there a few times and I've been to Paris a few times.
SC: Are there notable differences between American crowds and European crowds?
AW: I haven't done anything in the States for the album yet, so when we go home that's gonna be the first show I've played in New York in a year. But in general, I have played a lot in the US and I think the difference is more so in the cities, like when you play smaller cities it's more of an event.
When I lived in New York I was blown away by how many massive bands were playing right on my doorstep, whereas in Detroit where I grew up, we'd only go and see our friends play, like we were always really appreciative when there was that one band that we really wanted who would come through there.
SC: How did you start out performing?
AW: I got my first guitar when I was seven, my dad collects guitars and plays lots of different instruments so it's very important to him. He owns a scrap yard in Detroit but he would've been a musician if he didn't have a family to support.
So I got the guitar when I was seven but I didn't start playing until I was maybe ten, and at that point I started taking opera lessons as well. My mom probably was annoyed by how much I was singing in the house, like "I gotta get her singing lessons!", so she had a friend who she grew up with who happened to teach opera, so that's kind of how I fell into it and I ended up sticking with it for a long time but it was never something that I was that interested in.
It was challenging to learn but I don't think opera inspires my music now, maybe somewhere subconsciously, maybe in the way that I sing. It's kind of ingrained in me now because I did it for so long but I'm not thinking about Puccini or Wagner when I'm on stage.
SC: What's the reaction been like to King Con?
AW: Some people like it and some people hate it, which is the reaction that I want to get, I didn't want to have any mediocre material on there. It's a very weird experience putting an album out there like that. I wrote this album for myself about things that I wanted to talk about, and I think when you do that, you're gonna have people who don't like what you do, you're gonna have all different types of reaction to it.
SC: What's the album about?
AW: I wrote it very quickly – well there are certain songs which I had previously released, there was an EP out of Sister Wife but then I had about two months to write and record the rest of the album, and I ended up writing about things that I was watching, or mostly other people, it wasn't a very introspective album. I wasn't gonna write a heartbreak song if I wasn't heartbroken, I couldn't do that.
So it's a lot about cultural things in America, off-kilter kind of stuff, some stuff about religion but more about people who take advantage of religion to manipulate people and so con-men and cult leaders kind of became a fascination for me, so a few of the songs are about people trying to take advantage of people.
I'm interested in these niche cultures in America that we don't really talk about. I think a lot of people like to write about "The American Dream" but no-one talks about the things under the surface, and that's what I like to focus on.
SC: We hear you spent several months in an Elvis costume whilst promoting Velvet Elvis?
AW: First thing's first; I'm not in love with Elvis by any means. He's not even my favourite early rock & roll musician, Chuck Berry is by far, but the song Velvet Elvis is about objectum sexuality. I was in Detroit at an antiques store when I saw this really tacky velvet Elvis painting and I ended up writing a song about that and we did a lot of stuff in an Elvis suit, but I think that got really misconstrued because I don't really love Elvis; it was more about this painting and being attached to an object.
SC: King Con features a lot of unconventional lyrics, was this born from a conscious attempt to go against the grain?
AW: It was totally about what I like, not about being different. It's about being honest and talking about what I like to talk about. Every day I come to the studio with a different clip of something and am like "Can you believe this?", you know I just love learning about people that are different from me.
SC: You worked with producer Charlie Hugall on King Con, who's best known for his work with Florence + The Machine. Did you decide to go with a producer like this because you wanted to emulate that mainstream success?
AW: Absolutely not. I became friends with Charlie because we have the same manager and that was before I even knew who he'd worked with. So Charlie's been one of my very close friends for about a year and a half now, and the reason I like to work with him is because I've worked with a lot of different producers who've either wanted to change me, or I feel like they're not giving enough input and I'm kind of doing everything on my own.
But Charlie's the only person I've met so far where I think that we really balance each other out. He kind of keeps me in line, but I didn't even know much about what he'd done previously. I just met him when I was in New York and we became friends, so we kind of connected then. I was with him last week, I wish he could be here tonight. He's working on Lucy Rose's album, living at her parents' house. He did the same thing with me, I dragged him to Detroit where he stayed at my parents' house and we recorded Guts there.
SC: Another big production collaborator of yours is The Knocks, how did that come about?
AW: We met through a mutual friend. I was feeling really creatively stifled in Detroit, I couldn't find people that I wanted to work with. I'd been building a collection of demos and I just needed to get out and a friend of mine I grew up with happened to move to New York and said "Come out, meet everyone I know and if you meet someone interesting, great. If not, then just have a great vacation in New York".
So then I met the Knocks and right away we wanted to work together. They weren't trying to change me, that's the first thing I noticed, they wanted to build on top of what I'd started. So that was super-refreshing because every time I'd tried to work with people they'd said "Oh this is interesting, but really we should do this". And another producer comes in and does what he wants to do and I'm like "this isn't me, I'm not supposed to be doing things that I don't want to do". So it was really nice and then I moved to New York like two weeks later.
SC: We hear you opened for Chuck Berry, how did that come about?
AW: When I lived in Detroit I was in various different musical projects, and I was in this band at one point that was like my name but not my music. Like I didn't write it, I was just an idiot teenager learning the ropes. It was kind of rock & roll, classic rock stuff, and I saw that he was playing in St. Louis and I completely tried to beg my way onto the show like I did with so many other shows.
I think you learn a lot starting out and trying to build yourself a name in your local crowd, paying to play or hustling promoters. I think that's a really crucial part of the journey. So I had to do that and they gave me a list of things I couldn't ask Chuck. I couldn't talk to him, couldn't approach him and say hi. But then we were sound-checking and I heard this bang on the door and I went to open it and there's Chuck Berry towering over me and I was like "do I avert my gaze, what do I fucking do?".
But he gave me this handshake that was like totally jive and awesome and it was such an awesome show. I was completely star-struck. He put on a really good show. You know who else puts on a really good show? Little Richard, he's still alive and kicking.
Interview by Tom Hoare, Photography by Guy Eppel