Amon Tobin's ISAM Project At Brixton Academy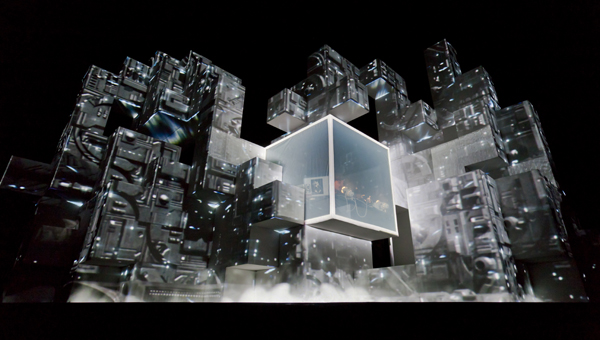 Visionary isn't a word used to describe most live music because, put simply, it's not.
The same old tired, gig formula favoured by most musicians won't involve anything you haven't seen or heard before.
So we should thank our lucky stars for Brasilian DJ Amon Tobin's pioneering ISAM Project for bucking this particular trend.
A stolen brother stealing a joint doesn't get the night off to the best of starts, but that's the price you pay for watching a gig in Brixton some days.
And with Amon Tobin's ISAM Project in the house drugs really aren't necessary, despite the pungent aroma drifting around the venue formerly known as Brixton Academy.
First up though is Tobin's Ninja Tune stable mate Lorn, who's been assigned the herculean task of supporting tonight's ISAM experience.
That's the glass half empty view anyhow.
The other side of the coin is supporting the avant-garde Amon represents a golden opportunity to play your music to a like-minded audience, as well as being a small footnote in what will probably become a significant part of live music history.
As befits the visual mindfuck that's in the post, Lorn's live presence is deliberately understated.
With a huge black curtain drawn like sackcloth over the Tobin's ISAM installation, the Milwaukee mix master makes do with a simple splash of crimson behind him and his decks in front.
The cuts I recognised from his soon to be released Ninja Tune debut, Ask The Dust, sounded just as earthy and bass driven as the studio album I'd been listening to.
Lorn's musical style favours the creation of heavy drum and bass backdrops, before punctuating this sonic canvass with shards of lighter shades of electronic effects and distortion.
But as skilled a DJ as Lorn clearly is, with personal favourite from his new record Weigh Me Down being well received by the crowd, the packed out Academy are only here for one thing.
So where to begin in describing the mad perfection of Tobin's new live music experience?
Having watched some footage of ISAM online and listened to the album of the same name last year, I still wasn't entirely sure what to expect.
Harsh as it is to judge ISAM as a record without the visual element this was no doubt inspired by, the overall experience of listening to Tobin's latest album is a little underwhelming.
Mixing experimental electronic sounds with distorted, sing-songy lyrics, ISAM the album is never less than musically interesting and diverse; but this doesn't really work on its own merits for me.
There's no real musical thread driving it in any particular direction that would keep you coming back for repeat listens.
Now I know why, as the 3D imaginarium of Dr Amon Tobin's mind is ISAM record's thread.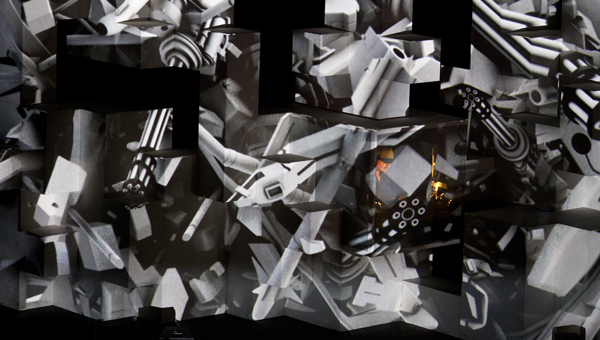 I'd only really seen YouTube clips of the ISAM installation in action, so when the curtain finally dropped to reveal an oversized clump of malformed tetris style white cubes it was hard not to feel a twinge of anti-climax.
The footage I'd seen made you feel like Tobin's next generation, cutting edge technical brilliance would dwarf the Brixton Academy's amphitheatre; yet this skeletal structure we were presented with barely filled half the stage.
Of course, appearances can be deceptive.
At the flick of the Brasilian magician's wrist, the ISAM structure came to life with Tobin doing his turntable thing in the very heart of this cuboid installation.
Encased in white light, the ISAM project seems like it might be Tobin's prison for the evening, but then maybe that's the price you pay for setting other people's imaginations free.
Whether perfectly rendering a single, falling cube like one of the many that make up the installation, or a whole flotilla of these six-sided shapes collapsing on top of each other from the sky, conjuring a sci-fi spectacle of 3D spaceships unleashing an armada of missiles towards the audience or creating a wall of amber lights burning and buzzing brightly like fireflies illuminating the faux night sky of Brixton Academy's noir background, Amon Tobin's ISAM experience is simply breath-taking.
Images complement songs perfectly, so you have throbbing bass beats are accompanied by jutting imagery that thrust themselves seemingly outwards in time to the rhythm of Tobin's compositions.
Such is the relentless nature of these, I find myself inching further and further backwards throughout the night, driven back by the sheer visual majesty of what Tobin has created here.
Simply unable to take in the scale and scope of what he's created.
There are several moments during Tobin's euphoric three set show where his DJing cage for the night is briefly illuminated to afford us a glimpse of this multimedia master at work, with the crowd's squeals of delight no doubt music to his ears.
There's even a song where Tobin projects his hands onto the incredible ISAM installation, so we can watch as his digits sonically and visually paints his music in the same way as a conductor would his orchestra.
Only without the unsane special effects.
As you're probably aware by now, Amon Tobin's ISAM experience is cinematic in nature and tonight's stunned audience is as cosmopolitan as you might expect to find at the Brixton Academy on such a musical bill.
Visionary doesn't do justice to tonight's entertainment, and neither do the neanderthal words my mind has arranged together in describing this.
But it's the best I can conjure in reviewing the magic of Amon Tobin's ISAM Project.
Jonathan Campbell