A Royal Affair Review
An ideal for which I am prepared to die.
That's the title of a speech Nelson Mandela delivered to Supreme Court of South Africa when standing trial for sabotage against the ruling National party back in 1964.
And I imagine this is something Dr Johann Struensee would no doubt have appreciated.
You see, Struensee was physician to the would be actor but actual King of Denmark, Christian VII. But, as is so often the way with any good story, A Royal Affair begins with a girl; and a princess at that.
We begin in eighteenth century England with a young woman being summoned by her mother for some happy news. This is Princess Caroline Mathilde and, as is customary for our aristocratic folk, she's just been informed of her impending marriage to her cousin she hasn't even met.
Still, at least her husband will make her a Queen, which puts this arranged marriage way ahead of most other retarded religious betrothals I can think of.
The man sweet Caroline will be marrying is the King of Denmark, but you get the impression he'd rather be anything but. Christian is a self-indulgent man-child prone to theatrical outbursts fit for a queen and is about as keen on his blushing bride as she is on him.
Which is not a good sign.
Uncomfortable with anyone else sharing his royal limelight, Christian subjects his new wife and old cousin to a rather sufferable existence through his fits of pique, penchant for booze and predilection for barroom floozies.
Well, as much as you can make the life of a Queen sufferable anyhow.
Having fulfilled her royal duty by giving birth to a son within a year of their marriage, Caroline retracts from her King and this unhappy couple go about living their separate lives in a state of blissless detente.
So when Christian informs his Queen of his intention to tour Europe for a year, you can guess sweet Caroline's relief and less than diplomatic response.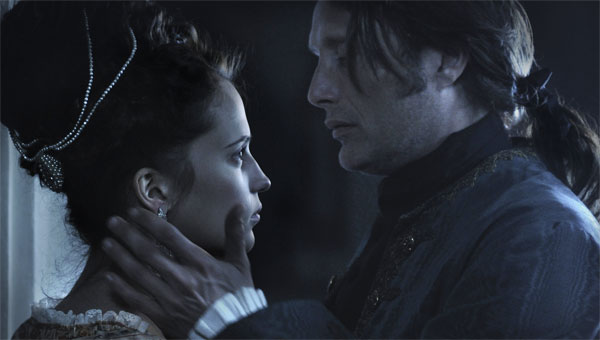 Yet, whilst on the road the King's increasingly fitful behaviour prompt his counsel to seek some qualified assistance in managing his episodes.
Thus Dr Johann Struensee is brought into Christian's life and, after bonding over the King's love of Shakespeare, it's not long before the good Dr is brought into the bosom of Christian's royal court.
As you can imagine, this goes down a treat with the King's existing advisors. History dictates that most men who aspire to power are selfish cunts only interested in serving their own interests, and Christian's inner circle are no different.
The status quo must not be interfered with, as well as some other things in the court of the increasingly sad and not so crimson King; but will the idealistic Struensee take heed of this or keep faith in ideals of enlightenment that he holds in such esteem?
A Royal Affair is a story from Denmark's aristocratic past that I had no knowledge of 'til watching this film.
As is always the case with such cinematic affairs of history, it's difficult to know where the line lies between historical truth and creative licence in director Nikolaj Arcel's Danish production.
Mads Mikkelsen, most famous for his roles in big budget blockbusters like Casino Royale and Clash Of The Titans, plays the altruistic Johann Struensee and brings a touch of nobility as well as his handsome features to the part of the good doctor.
So of course we root for him.
There are no other recognisable names or faces on show, which makes A Royal Affair all the better as it's easier to focus on the story rather than the celebrities.
With its subtitles and by cinematic standards sedate material, A Royal Affair won't be everyone's cup of tea.
But if you enjoy learning about Europe's not too distant past, and some of the noble men who tried to make a difference for the greater good of his fellow man, this should resonate with you.
One thing's for sure though, Johann Struensee and his ideals are worthy of remembrance.
Jonathan Campbell