Spinach Review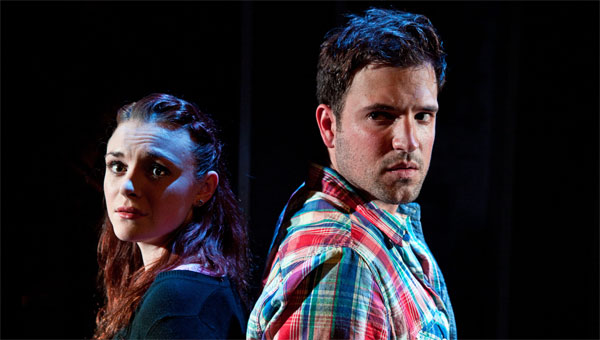 It was with a certain trepidation that I went to see Spinach at The King's Head Theatre last week.
The blurb on the poster promised "Thrills, abductions, pills, attraction, laughs and it's all sung," and my cynical heart sank.
Why be out on a Friday night watching a musical comedy when you can stay in and watch Have I Got News For You?
These pangs of remorse for my so called exciting life were soon forgotten though, as Spinach proved to be an absolute delight.
The play is about a boy and a girl, Tom and Kate, who wake one day to find themselves tied back to back and no idea of who the other is or how they got here.
Their memories play out before us in flashback and, piece by piece, Tom and Kate begin to figure out who their captors are and just what a sticky situation they're in.
Writer and director Janine Waters has been adamant that Spinach is neither a musical nor an opera; just a play where everything happens to be sung.
Which in my book makes it an opera, or at the very least operetta.
For one awful moment at the start, I thought it was going to be two people tied back to back for the whole eighty minutes. Thankfully this isn't the case, but some of the segues into flashback begin to feel a bit clunky by the end.
The plot is light and ridiculous, but still makes you wonder how everything will work out for Tom and Kate in the end. It's funny too, and this sense of humour nicely balances out the undercurrent of danger about the fate of our kidnapped protagonists.
The most wonderful thing about Spinach is the multi talented skill of the ensemble cast members.
Not only can they all sing flawlessly, but they play instruments too; giving us musical interludes on guitar, ukulele and on one song by Claire Whittaker, a wonderfully comic saxophone accompaniment.
Their collective performance was flawless, which considering the difficultly of Spinach's premise, is mightily impressive.
But it's Cassandra Compton's Kate and her stunning vocals that stole the show for me, though Ben Gerrard proves to be a very capable comic actor as the geeky and girlfriendless Tom.
Spinach is a bit of a fringe theatre romp. If you're expecting high art and opera then you may be disappointed, but if you're looking for some entertaining pub performance fun then it hits all the right notes.
Hannah Lane