The Sessions Review
If I was confined to living life through an iron lung and a hospital gurney, God's pretty much the last person I'd believe in.
But that's not the case for Mark O'Brien, the real life protagonist and inspiration behind The Sessions.
O'Brien is a writer, journalist and a damn funny guy, which is pretty much everything I fancy myself as.
Only difference being O'Brien lives his life as a vegetable.
Now I can't speak for anyone else, but that would have stripped me of pretty much all of the above.
But not Mark.
He accepts the hand life's dealt him, which means having to sleep with the aid of his noisy mechanical lung every night, sentenced to being forever wheeled about by one of his carers like a main course at a fancy restaurant and only able to spend a few hours outside every day before his lungs start to give up on him.
Yet O'Brien's still thankful for all the things he has in life, which boils down to having a brain and mouth in good enough working order that allows him to communicate with the world around him; and better than most able bodied people can to boot.
But there's one thing in life our bed bound protagonist has yet to experience, a woman's touch.
So when O'Brien learns there are sex surrogates you can hire during one of his journalistic interviews, he sets about finding his own therapist to teach him all about this fundamental human experience.
There's only one problem, given his debilitating condition, i.e. roman catholic, Mark feels as though he needs the green light from god to go through with this.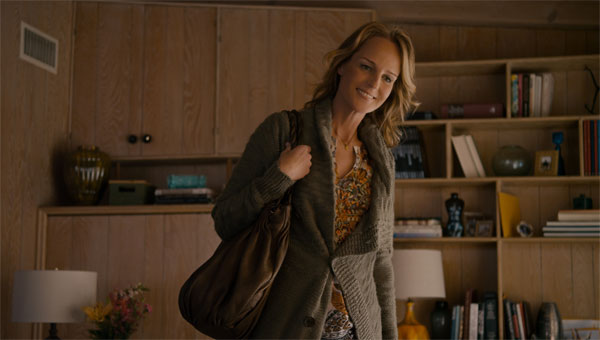 Based on the real life and times of Boston poet Mark O'Brien, The Sessions is an unusual yet inspiring story about, well, I'd say it's about the quality of life we can have.
Directed and written by Ben Lewin, The Sessions explores the otherwise untouched sex lives for disabled people in a sweet and gentle manner, using subtle comedy to lighten the daily suffering paralysis causes.
The cast is strong, with Helen Hunt as O'Brien's sex surrogate while William H Macy plays an understanding priest, but John Hawkes is undoubtedly the star of this film.
Now a lot of famous people will have been mentioned in the same sentence as best actor at the Oscars this year, but I'd wager none of them will have done a better job than Hawkes in this role.
More interested in acting then the world of celebrity that now goes hand in hand with this profession, Hawkes has created a string of brilliant characters in indie films; from his role as a cult leader in, Martha Marcy May Marlene, to a crystal meth addled junkie in Winter's Bone.
And now this.
I guess the idea of playing a paralysed leading man can be quite an attraction for some actors, with all the challenges this presents, and Hawkes rises to meet this challenge to imbue O'Brien with wit, charm beauty.
By the end I'd stopped pitying the man in the hospital gurney who can barely breathe for himself and instead started marvelling at his pick-up lines.
Now I don't believe in any of your gods you can throw at me, mostly because I'm not a mentally deficient child who thinks I'm so damn special that a supreme being must have created me.
But I do have faith in the power of film, and they don't come more powerful than The Sessions.
Jonathan Campbell