Fast & Furious 6 Review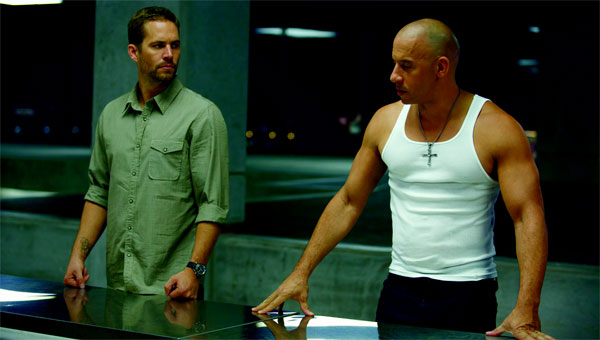 It's not often that a film comes along which really cuts to the core of the "Human Condition", effortlessly charting the gamut of human emotions through a cast of rich and layered characters.
Fast & Furious 6 is not such a movie.
But it is unashamedly big, dumb and tons of fun.
For newcomers to the franchise, the film centres on petrol-head Dom Toretto (Vin Diesel), ex-cop Brian O'Conner (Paul Walker) and their merry band of illegal street racers-cum-professional heist artists.
Fret not: a helpful recap montage is on hand at the start of the film which neatly summarises the series' main plot points to date.
Following the events of the previous film, the gang have dispersed and are living the high life on the proceeds of the Rio job. That is, until Dwayne Johnson's Agent Hobbs raises his shiny, goateed head with an offer that Dom and his crew cannot refuse.
Namely, to track down a gang of deadly, and incidentally, globetrotting hijackers headed up by the evil Owen Shaw (Luke Evans).
Dom's motivation takes the form of Letty (Michelle Rodriguez), whose comeback was heavily signposted at the end of the previous film.
And so begins a veritable parade of car chases and action set pieces strung together by a pretty flimsy plotline, which culminates in an explosive climax along what must be the world's longest runway.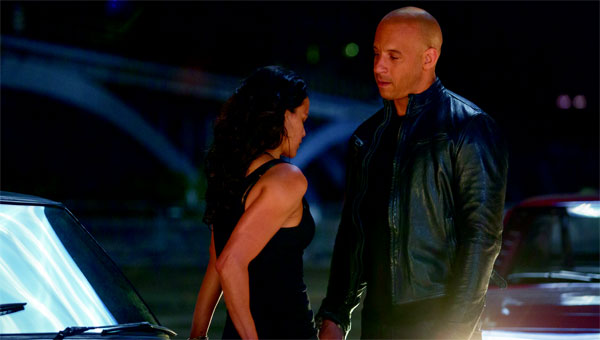 Internet trolls have already criticised the film's lack of realism. I say, hey: if you're looking for Ken Loach, you've come to the wrong movie.
Yes, the effects are overblown, the dialogue is cheesy and the characters are two dimensional. But the Fast and Furious franchise has never promised anything else. It does what it does, and does it well.
The cast have strong chemistry at this point in the series and are clearly having fun. Evans and mixed martial artist Gina Carano (as Cobb's new partner) generally hold their own against the established characters.
Inhabitants of London, where the majority of action takes place, will doubtlessly enjoy the film's glossy depiction of the city. And showing extreme confidence in projected box office takings, there are already rumours of Egypt and Guam as destinations for the eighth and ninth instalments in the series.
It comes as no surprise that the seventh instalment is already in production. Indeed, the film's final scene serves as a lead-in to the sequel which features a familiar face to action aficionados and will have fans of the franchise positively wetting themselves in anticipation.
Fundamentally, the franchise is very much like the cars over which it salivates: it keeps all the parts that work, discards the parts that don't, and cranks the speed up a notch every time it goes for a spin.
Buckle up.
Conor Brennan