The Time Being Blu-ray Review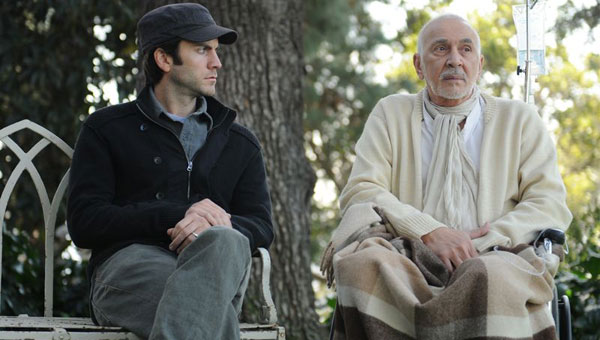 Whenever I review a movie, I try to avoid any background knowledge of the film itself.
I don't want to know about problems in pre-production.
I don't want to know who fell out with who on set.
And I don't want to know how many times the script was sliced and diced by the studio before shooting wrapped.
I just want to experience the finished product for what it is.
So I was disappointed when stumbling across some negative word of e-mouth about The Time Being, a film by first-time director Nenad Cicin-Sain.
Funny thing is, his film is partly about the innate subjectivity of art.
Wes Bentley plays Daniel, a struggling artist with a wife and kid, who lives in an apartment decent enough to belie his money problems. But anyway.
Following a showing of his work one evening, Daniel is approached by the mysterious Warner (Frank Langella), clearly a man of means. Warner asks Daniel a few confusingly philosophical questions, before offering him some work. And not of the painting kind.
Warner was presumably a fan of Bentley's plastic-bag-dancing camerawork in American Beauty, for he ultimately recruits Daniel to film some similarly obscure material.
A sunrise. A jungle-gym. The inside of a museum.
You know: the usual fetishes of an eccentric millionaire.
As Daniel continues his work, and his marriage unravels, Warner's motives become clearer.
So what about the negativity towards the movie?
It's easy to see why this was generated.
The Time Being is slow-moving, contemplative and therefore is understandably at the mercy of a film-watching generation who favour quick-cuts and OTT performances.
The pacing would all be fine if there was some underlying substance.
The film does touch on the sacrificial nature of art creation and the pain of regret and plenty of deep stuff like that. But it takes more than a load of static shots and tinkly piano music to back it up.
On the plus side, there is no denying that the film looks fantastic, and this is clearly a strength of writer and director Cicin-Sain.
However it is clear that this strength does not extend to the direction of at least some of his cast members.
Langella holds his own, naturally. Elevating the film with his performance, he develops from being an initially mysterious and possibly malevolent presence into a sympathetic character with an understandable agenda.
Not surprising really from the man who brought humanity to classic villains such as Dracula, Skeletor and Richard Nixon.
But this is essentially a two-hander, and counts on co-star Bentley to offer more than the robotic performance he gives here.
It is important to identify with Daniel and his situation, yet Bentley's patented stare-frown would keep even the most empathetic viewer at bay.
Add to that, an onscreen marriage which is integral to the plot yet severely lacking in chemistry, and there is little to root for.
Ultimately, this is a curious and flawed debut from a visually innovative director.
Conor Brennan