Green Room Blu-ray Review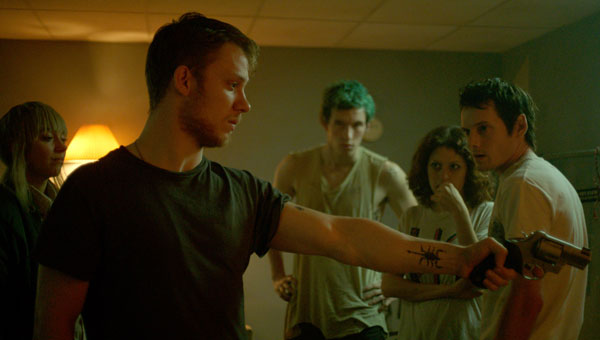 Jeremy Saulnier maintains his colour-themed filmography with Green Room, the follow-up to 2013's Blue Ruin and out on Blu-ray this month.
We open, early morning, on an immobile van which looks to have been driven off the road in the very recent past. Its occupants awake and pay little heed to their parking situation. Instead they just go about their daily business of hustling a living and making their way to the next gig. In a few short scenes, the characters and their lives are established.
The four occupants are better known as rock band The Ain't Rights played by familiar faces such as Alia Shawkat, Joe Cole and the sadly departed Anton Yelchin as Pat. Struggling for stardom, the band secure an interview with small-time journalist, Tad, who they later learn has been fired from the very show he was interviewing them for.
By way of compensation, Tad offers the band a local gig.
Which turns out to be embarrassingly low-paid.
By way of further compensation, Tad offers the band another gig, at a club where his cousin works.
Once bitten but no shyer, the band agree and head out to the club, a Neo-Nazi favoured hangout outside Portland.
Despite a shaky start, the gig is a success but just as they are leaving, Pat makes a grisly discovery.
This results in a siege-type situation where the band is holed up in the film's titular location, whilst the club's various inhabitants are intent on fatally harming them using various weapons: blunt weapons, sharp weapons, shooting weapons, and even dogs. Hungry dogs.
When I first saw the trailers and TV spots for this film, I had no idea what to expect. Was it a horror? Was it a comedy? Was it a thriller?
The answer? It's a bit of everything really. It's an Assault on Precinct 13 / Die Hard type affair but with a more grounded scope and more realism in terms of characters and consequence.
Green Room's main selling point was the appearance of Patrick Stewart in a rare, sinister turn as club-owner Darcy. Stewart is as good as expected, underplaying it as an arguably level-headed villain, even if you don't fully buy him as a skinhead leader. But the rest of the cast deserve as many plaudits.
It would be condescending to single out Yelchin in one of his last roles; he is good as always, but has had meatier roles over the course of his career.
In truth, all of the performances are strong, particularly Cole and Imogen Poots, and Saulnier's mate Macon Blair as Darcy's wavering henchman.
Fundamentally this a genre film, a well-made and smarter-than-average one at that, and by all accounts Saulnier did not aim to achieve much more than that. So in that sense, not overly mould-breaking. But you cannot deny that it makes for a satisfying watch.
Sure, it does not quite fully deliver on the promise of Blue Ruin, but one suspects that there is a lot more to see from Saulnier in the years to come.
Conor Brennan