Love And Friendship Blu-ray Review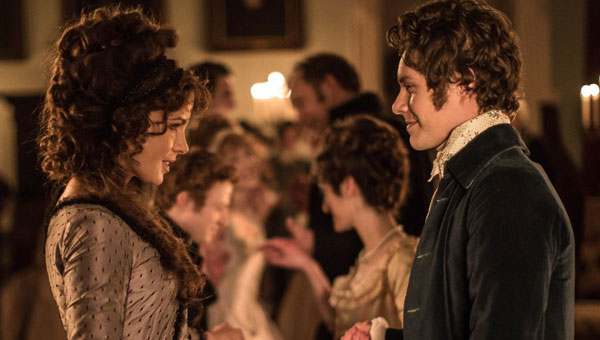 Can men and women ever just be friends?
I know my answer, and I'd wager Jane Austen's Lady Susan knows hers too.
Not that she's letting on mind, that's just not how the game's played… and no-one plays the game better than Susan in Love and Friendship.
Like most every other period drama I've ever seen, everyone lives in a house, a very big house in the country.
Our ladyship has just left one of these mansions for pastures new, having outstayed her welcome and left a trail of drama for anyone whose path she's crossed
As is a woman's wont.
You see, the recently widowed Susan is quite the catch, but boy don't she just know it – as it seems do all the men and women folk she encounters along her not so merry way.
Having caused a schism in one supposedly happy marriage, our lady's off to the next mansion she can doss at.
Fortunately for Susan, her former in-laws graciously take her in, where she proceeds to spin another web of distress in her new surroundings.
But as our ladyship casts a spell on all the eligible – and not so eligible – suitors that she meets, will she find the right kind of magic for her?
I'm not sure I'm supposed to say this, being a guy 'n all, but I love period dramas.
I'd like to say it's because of all the posho's braying around like educated donkeys in their Sunday best, or even the frilly dresses the girls wear for that all important ball where they'll meet their very own prince charming.
But it's just that they're usually so brilliantly written that you can't help but get drawn into the world they create, and writer and director Whit Stillman's Love and Friendship is no exception.
Based on the Jane Austen novella Lady Susan, Love and Friendship doesn't really have much of a plot; instead, we just watch a Kate Beckinsale shaped Lady Susan go around town being deliciously awful to everyone she meets, while pretending not to notice in the slightest the effect she has on men.
Which sounds like a role Ms Beckinsale was born to play, apart from the being awful bit.
There are other characters, Lady Susan's daughter amongst them, and a talented supporting cast including Stephen Fry, Chloe Sevigny and Tom Bennett amongst others.
But they all exist to further embellish the character of Lady Susan, who Beckinsale has down to a tee.
Love and Friendship is the perfect film to watch on a lazy Sunday afternoon, or if you just want to learn a few tricks on how to play the game from a masterful mistress.
Jonathan Campbell