Paterson Review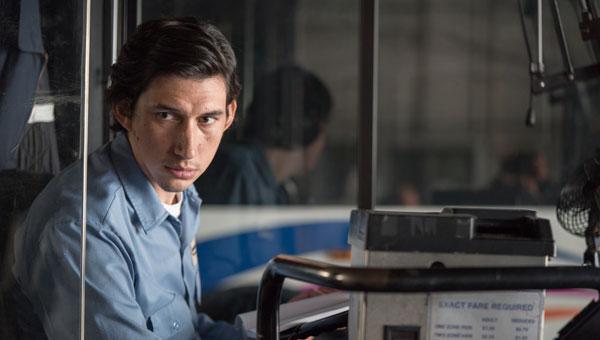 A simple kind of life.
It's a humble enough ambition, no doubt, yet in our hyper connected and information saturated age, this simplicity feels more elusive than ever.
Not for Paterson though, the titular bus-driving star of Jim Jarmusch's brilliant new film.
Paterson wakes up each morning in the town of the same name thanks to his silent watch alarm, which magically makes sure he stirs in time for work – though the photo on his bedside table hints at some military inspiration for Paterson's early rising routine.
And though waking up before 7 each day ain't my idea of fun, I'm sure I'd adapt if I got to wake up to Paterson's girlfriend each morning.
Laura is very much the creative type, always experimenting with things around their home and making something new, even if that something new is horrible.
Like her brussel sprout and cheddar pie.
In contrast, Paterson is the quiet type who seems happiest when he's alone with his thoughts and has the space to write down his poems in between driving people around om New Jersey's number 23 bus.
Or taking his dog for a walk to his local bar, and having a quiet drink with the less than quiet locals.
You almost get the feeling that Paterson's experienced more than enough for one lifetime, and is happier now he's found his perfect pace of life.
This lo-fi rhythm helps him get the most out of his words too, as Paterson softly observes the occasional magic of ordinary life while he goes about his working day.
Paterson is a slow burning tale of blue collar blues that subliminally lulls you into its simple spell.
The understated tone and humour is classic Jarmusch, reminiscent of his recent Broken Flowers film, and Adam Driver is perfectly cast as the eponymous Paterson.
Anyone familiar with the brilliant tv show Girls will know how talented an actor Driver is, but it may come as a surprise to folk who only know him as the heir to Darth Vader.
The story of Paterson is a simple one, as a man tries to conquer his own thoughts and words to create something more than himself.
Paterson's poetry is as pared down as the film too, using everyday language and stripped down thoughts to communicate simple yet perfectly conceived ideas.
For my mind, this masculine energy felt comparable to a cleaner incarnation of Charles Bukowski, though William Carlos Williams is Paterson's wordsmith of choice.
Eagle eyed Wes Anderson fans will notice a couple of familiar faces on the 23 bus, having seemingly graduated from their very own moonrise kingdom, as Paterson quietly goes about revealing the secret truths of our universe.
The ordinary world that Paterson exists in feels very attractive as the white noise of our information age threatens to drown out the few things that are genuine in our life.
For now though, Jarmusch's perfectly pitched film will have to do.
Jonathan Campbell