Game Night Review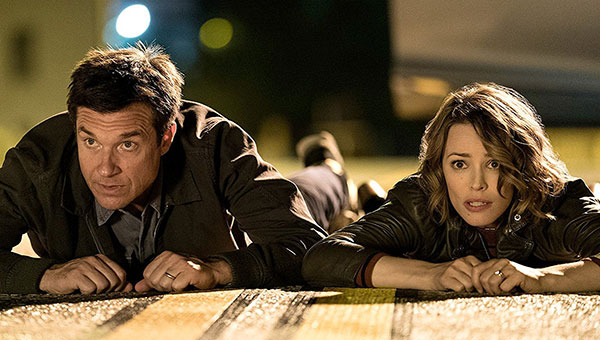 Game Night is either something that's failed to cross the Atlantic, or I've simply failed to be introduced to this.
In Jonathan Goldstein and John Francis Daley's Game Night, the story revolves around a group of friends who actually are at that stage in life; they get together every week, drink beers, eat snacks, play scrabble and generally have fun.
Max and Annie (Jason Bateman and Rachel McAdams) are the two competitive souls who lead the group, regularly hosting games night at their home, all under the nose of their creepy cop neighbour, Gary (Jesse Plemons).
Max's successful older brother Brooks (Kyle Chandler) arrives in town and, before you can say 'sibling rivalry', he invites Max and his mates around to his latest bachelor pad and vows to take games night up a notch.
Brooks proposes that the group play an interactive mystery game, involving deliberately-placed clues and actors playing parts.
The prize? Brooks' new Stingray car.
Think of it as a lighter version of David Fincher's The Game from 1997.
The game commences but something seems a little off and soon things begin to go extremely wrong, with the group banding together when they realise what is actually at stake.
The film feels like most big budget caper comedies of recent years. Horrible Bosses comes to mind, and incidentally was also the brainchild of Goldstein and Daley.
It was mid-way through this film when I was reminded of another comedy team, namely the Wright-Pegg-Frost team behind the Cornetto Trilogy.
I'm not sure if it was the often inventive camerawork, the geeky in-jokes, the mix of the everyday and the fantastical, or the early inclusion of Don't Stop Me Now by Queen, but something reminded me of Pegg and the gang.
In other words, I quite enjoyed it.
In addition to Bateman and McAdams, the film is boosted by a strong supporting cast. Billy Magnussen is particularly funny as one of Max's friends, Sharon Horgan has fun as Sarah and there are nice cameos throughout. Lamorne Morris and Kylie Bunbury are good as a pair of bickering childhood sweethearts but unfortunately lumbered with one joke which gets a bit tired.
But it's Jesse Plemons who really stands out as Gary and could fuel a whole movie by himself.
All in all, witty and entertaining comedy which surely bodes a sequel or two, and that's not necessarily a bad thing.
Conor Brennan