Hotel Artemis Review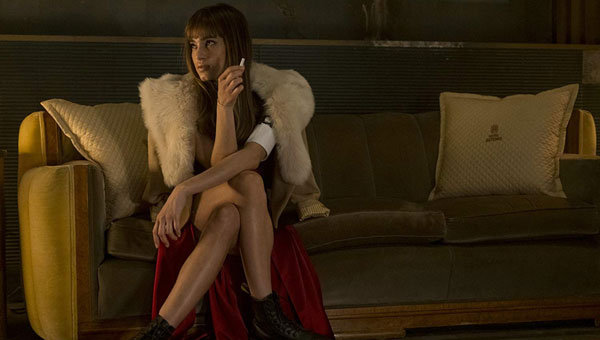 Nestled amongst the Summer blockbusters of 2018 is this mysteriously-titled film with some big names amongst its cast.
Hotel Artemis is the directorial debut of Drew Pearce and, in his own words, is an indie film, despite the presence of Jodie Foster, Dave Bautista and Jeff Goldblum.
The film opens with a vision of Los Angeles in 2028; dystopian yet recognisable.
Across this futuristic L.A, there are escalating riots related to the privatisation of the city's water supply. Criminals are taking advantage of the chaos to loot and steal.
Waikiki (Sterling K Brown) and Honolulu are two such criminals, who, along with their accomplices, are carrying out a bank robbery while the riots rage outside.
Their unusual monikers relate to their room names at the Hotel Artemis.
The titular hotel is a private hospital and haven for criminals seeking emergency care. The hotel is run by Jean Thomas (Foster), a jaded, agoraphobic medical professional who now operates on the dodgy side of the law.
Jean is supported by Everest, a good natured but physically imposing orderly, played by Bautista.
Things don't go to plan for Waikiki and Honolulu, and the latter is badly injured. They make their way to the hotel, where Jean's guests already include Acapulco (Charlie Day) and Nice (Sofia Boutella): He's a mouthy arms dealer; she's a mysterious assassin extraordinaire.
Nice has a past with Waikiki, who gets rubbed up the wrong way by Acapulco. Geographically confusing indeed.
Jean meanwhile has a difficult choice to make when a face from the past seeks refuge. If Jean accepts, she would break one of the hotel's biggest rules.
Against this backdrop of simmering tension, both inside and outside the hotel, Jean is also advised that top gangster 'the Wolf-King of Los Angeles' is en route and needs medical attention. He also happens to own the hotel.
Describing itself as a neo-noir crime film, Hotel Artemis is a curious mix of Agatha Christie, Philip K Dick and Quentin Tarantino.
While this may be sound like an ideal cocktail for some, it may not be for everyone's taste.
It was for mine.
Pearce lists ITV2 sitcom No Heroics and story credits for both Iron Man 3 and Mission Impossible: Rogue Nation amongst his filmography.
With his feature-length directorial debut here, has produced something original, engrossing and full of low-key, sci-fi invention.
The interplay between the characters is fun and thrilling, Pearce's script is sharp and witty, and it's wondrously refreshing to see a Summer sci-fi film which is not a sequel, reboot, remake or adaptation.
As much as the film purports to be an ensemble piece, Foster plays the central character. It is great to see her carry a film, which she has arguably not had the opportunity to do since 2007's The Brave One.
The rest of the cast is also strong, particularly Bautista, who shows 'Rock' levels of charisma.
I admit there are flaws. At ninety-four minutes duration, this is the rare case of a film which may have actually benefitted from a little extra time to flesh certain characters out.
Lengthier running time may have also tempered the rushed and frenetic third act.
This is a film which may struggle to properly rub shoulders with the usual budget-heavy Summer roster, and it may be too quirky for everyone's taste, but will be a treat for the few. Like myself.
Conor Brennan