Cold Pursuit Review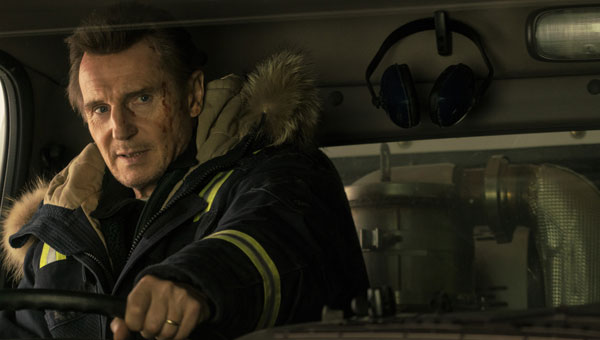 It was easy for me to initially dismiss Cold Pursuit as a standard Liam Neeson beat-'em-up, but it turns out I was wrong.
And the early whispers about the film having a Fargo-esque flavour? It turns out they were right.
All that said, the preview screening took place around the same time as Neeson made headlines this week for all the wrong reasons. It's fair to say that the timing couldn't be worse for film in which Neeson plays a character seeking revenge.
Rather than being retooled into some sort of generic actioner, as I had feared, the film retains the darkly comic and at times farcical tone of the Norwegian movie on which it is based.
Kraftidioten (a.k.a. 'In Order of Disappearance') was a 2014 black comedy starring Stellan Skarsgård and one which I reviewed for this very website way back then. How time has flown.
Neeson takes the Skarsgård role as Nels Coxman, a quiet and reserved roadworker and family man who lives just outside a ski town in the Rocky Mountains.
His peaceful life is shattered by the sudden death of his son, seemingly from a drug overdose. Nels cannot believe his son was an addict and embarks on a search for the truth and on a bloody campaign of revenge against those responsible, alienating wife Grace (Laura Dern) in the process.
Think Death Wish, but with snowploughs.
Along the way, with occasional help from his brother (William Forsythe), Nels tangles with various colourfully-nicknamed lowlifes like Speedo and Limbo, as well as higher-level gangsters like Viking and White Bull.
It all sounds quite by-the-numbers, but Cold Pursuit retains the same quirky tone that made the original film so enjoyable. This is no doubt helped by the involvement of director Hans Petter Moland, who also directed Kraftidioten.
Nels also eventually attracts the attention of local law enforcement, in the form of Kim (Emmy Rossum) and Gip (John Doman), who prove a great double-act.
Cold Pursuit sets its offbeat tone early with the dispatch of one of Viking's lower-level goons; Nels disposes of the body by wrapping it in chickenwire and throwing it off a cliff. Nels' workmanlike approach to the whole thing raises a smile.
One of the reasons this works so well is due to the subversion of Neeson's action-star image; he does have his share of action scenes, but there is a weariness surrounding Nels as a character, which is amusing.
For me, the most memorable character of the original film was the main villain, and Tom Bateman does a fantastic, scenery-chewing job in the role of Viking.
My main criticism is that, at two hours, it feels a tad long and could have probably lost twenty minutes or so.
Cold Pursuit admittedly won't appeal to those looking for a huge amount of substance.
Aside from the violence, a large proportion of time is given to minor characters and henchmen having seemingly inconsequential conversations; but for fans of dark comedy, this is a near-classic.
Conor Brennan