Blinded By The Light Review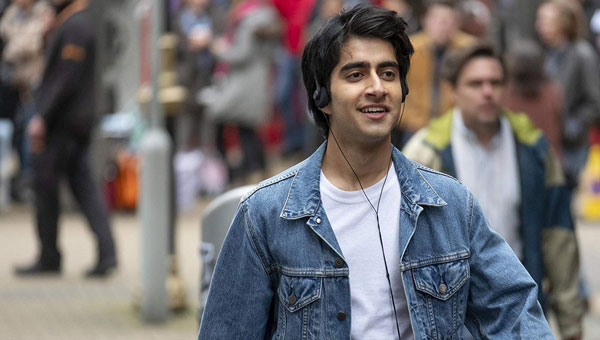 You can't start a fire without a spark.
That's just good science.
For Javed – who dreams of escaping his dreary hometown of Luton and becoming a writer – that spark is Bruce Springsteen, as we discover in director Gurinder Chadha's new film Blinded By The Light.
The year is 1980 something; The Pet Shop Boys are Top of the Pops, the tory tyrant du jour is Margaret Thatcher and the UK's economy is on the slide. In the midst of a debilitating recession, Britain bears witness to a disturbing rise in white nationalism amongst the working classes who feel like they've been left behind by an increasing elitist conservative party.
Ring any bells?
Now, this kind of environment doesn't make life easy on a teenager – hell, finding the courage to work out who you are and what kind of person you want to be is hard enough.
It's even harder if you're a second generation Pakistani immigrant caught between respecting your parents' native country and yearning to be part of the strikingly different culture you've been born into.
And did I mention a resurgent national front movement in your own backyard?
Having secretly taken English instead of Economics at college – against his father's wishes – Javed's busily working on his writing when a new friend with a penchant for Top Deck hands him a couple of cassette tapes over lunch.
This is Javed's introduction to the music of Bruce Springsteen and, though 'The Boss' might be painfully out of step with the wave of new romantics synthing up the charts, to a shy, poetry writing 16 year old who still hasn't had a proper girlfriend yet, he might just give our softly spoken hero the courage to speak up in his own voice.
Adapted from – spoiler alert – successful journalist and documentary maker Sarfraz Mansoor's Greetings from Bury Park biography, Blinded By The Light is a heart-warming coming of age tale set against a political backdrop you'd hope we wouldn't have to live through again.
And yet here we are.
But this film isn't about the politics of despair that sickening right wing politicians create in order to further their own agenda and profits, Blinded By The Light is far purer than all that and is ultimately a story about love and redemption.
At the heart of it lies the relationship between an idealistic son and his authoritarian father who desperately wants to make sure his decision to move his life to a new country was the right one.
When it comes to fathers and sons, I guess it doesn't matter how similar or different we may be from each other – we'll always yearn for them to be proud of us.
And in Blinded By The Light, director Chadha has made a film that both she Sarfraz can be proud of.
For those of a certain vintage – i.e. me – the soundtrack's brilliant and there's enough humour and originality to keep you emotionally engaged through to the tear-jerking climax, even if there may have been one or two too many dancing in the street moments.
Which everyone knows is more Bowie and Jagger than Springsteen.
As for the increasingly fascist fire burning through our politics right now, I just hope there are enough bright sparks around to see through these painfully transparent right wing lies before we burn our country to the ground
Jonathan Campbell