Animal Kingdom DVD Review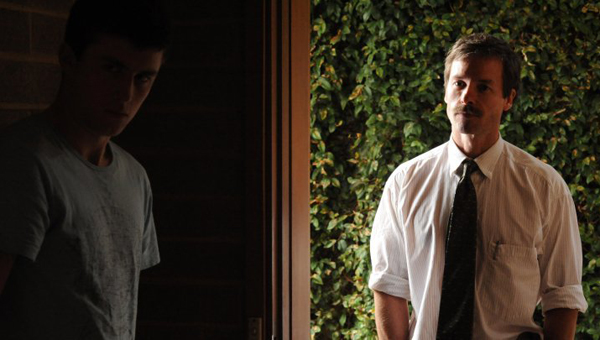 What a Guy.
That'd be the evergreen Pearce, an aussie actor who's been impressing audiences around the globe with his versatility and stage presence ever since making his hollywood breakthrough in the splendid LA Confidential.
So forgive my teenage excitement at the prospect of Animal Kingdom, the latest buzz film to come out from down under.
We begin with a young man watching an episode of an interminably boring tv game show, which sadly isn't confined to Australia's sunny shores. The adolescent is Josh "J" Cody, and next to him is a middle aged woman, presumably his mother, resting her head on the living room sofa.
The paramedics rushing through the front door signal that she's doing more than just resting.
Or to be more precise, less than this.
J's mother has just od'd on heroin, although he seems damn casual about this; as if it were an inevitable outcome that would happen sooner rather than later.
till not showing any hint of emotion, J calls up his estranged grandmother to ask for help with the funeral details. Of course, he's really asking for more than this; and his sweet fair haired grandmother, affectionately known as Smurf, duly arrives to take him home with her.
Strangely, this fairytale incarnation of a doting grandmother is also the reason why J's mother hasn't been in touch with her family. Now I'm not one to judge, but when a heroin junkie feels you'd be a bad influence on her child, you know that they're no good.
J's mother's rationale soon becomes clear, as his cadre of uncle's are all notorious members of Melbourne's criminal underworld.
Somewhat inconceivably, Smurf is the matriarch of these boys and J has just been added to her flock.
The Cody boys aren't dumb though; they know where their future lies if they continue their recidivist ways, and are actively looking to downscale their operations.
But their history with this city's similarly corrupted police force won't make it easy for them to change, and J is thrust into a world where he has to make the right decisions for his own future.
After hearing nothing but praise for Animal Kingdom from an assortment of sources, I was surprised that the film was so middle of the road.
Modern gangster films are common fare in today's post Soprano's culture, so you better have something compelling to say if you want to stand out from the crowd.
Sadly, that's not the case with Animal Kingdom.
Despite the decent ensemble cast, lead by the redoubtable Guy Pearce as Senior Detective Nathan Leckie, the script is too boring to ever really take hold of your synapses and immerse your mind in the world they've tried to create.
So when J, played by newcomer James Frecheville who's either a method acting genius or slightly autistic, is faced with life and death decisions, you don't really care one way or the other.
I'd say you're best off taking a leaf out of Pearce's memorable film past, and forget Animal Kingdom ever happened.
Jonathan Campbell