Incendies DVD Review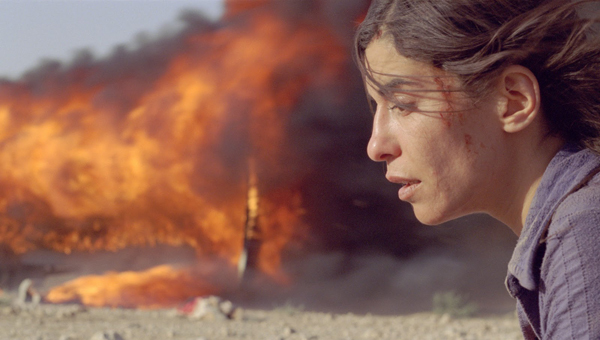 How well do you know your mother?
Obviously we know our parents to an extent, usually as those individuals who provide us with sustenance and love through our formative years. But, as we outgrow this parent child dynamic, do we get to understand them for the people they truly are?
Canadian twins Jeanne and Simon Marwan, played by Melissa Desormeaux-Poulin and Maxim Gaudette respectively in Denis Villeneuve's adaptation of Wajdi Mouawad's acclaimed play Scorched, clearly didn't.
Incendies begins with Jeanne and Simon listening to their mother's last will and testament. But it transpires that Nawal Marwan's final wish is to be buried naked and facing the ground, without a casket or gravestone to indicate where she lies.
Only once Jeanne and Simon deliver two envelopes to their absent father they presumed was dead and a brother they never even knew existed, will Nawal allow an epithet to be erected at her final resting place.
Angered by these shocking revelations, Simon stays at home while Jeanne makes her way to the fictional Middle Eastern city of Daresh; where her mother studied. Once here, Jeanne embarks upon an intense investigation into her mother's past. Only everybody who knew Nawal has a different impression of her, and a different story to tell.
Quickly realising she didn't know her mother at all, Jeanne calls her stubborn brother back home and asks him to join her. Once Simon arrives, the siblings uncover more shocking revelations and terrible secrets that finally reveal Nawal's truth.
Villeneuve delivers an intense, emotionally charged and aesthetically rich experience with Incendies; navigating its sensitive subject matter with integrity whilst highlighting the many social injustices played out in many Arabic cultures.
Incendies flawlessly shifts between the past and present, seamlessly weaving Jeanne and Simon's investigative journey together with flashbacks of Nawal's past; with her history being the more intense and engaging storyline.
A dark, brooding and sometimes imposing feature Incendies will keep you guessing at every turn, only for you to realise that in war normal rules do not apply. Humanity is allowed to unleash our inner beast, wreaking havoc upon innocent victims without fear of persecution or reprisals.
Though clearly based on Lebanon, Incendies is deliberately vague about where it's set with no factual references to geography. Perhaps Villeneuve didn't want the film to have a tangible location, so that the themes of sectarian violence, family conflict and the oppression of women are not restricted to one land or race. Rather, they are endemic to the human condition.
The score is perfect suited, with a surprisingly large dose of popular western music bridging contemplative parts of the film. I was expecting ambient strings or something a little more in keeping with the middle eastern backdrop; but instead Radiohead's You And Whose Army adds musical spice. As well as ensuring Incendies story is an international affair.
Combined with the subtly beautiful cinematography of Andre Turpin, original music of Grégoire Hetzel and the powerful portrayal of Nawal by Lubna Azabel; there's much to recommend about Incendies.
So if you watch this with your mother, and are presented with a secret so terrible it threatens to destroy the very fabric of your life soon after, you can be sure Incendies was the catalyst.
Let's just hope it's not as bad.
Kareem Ghezawi