For Ellen Review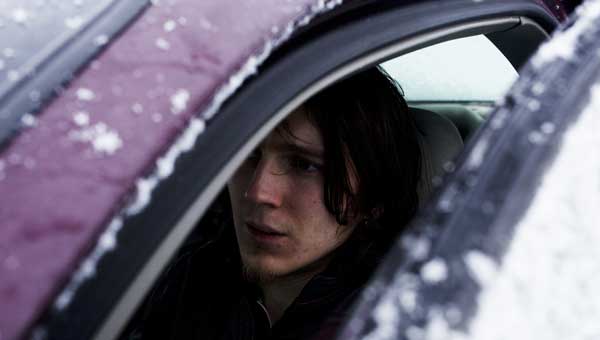 What do you do when you're in a rut?
Call the AA man or woman of course, they're our fourth emergency service.
And that's exactly what Joby Taylor does, or at least the american equivalent, when his car ends up in a snowdrift.
If only it was as simple to get your life out of a rut.
With his long, greasyish hair, well groomed soul patch come goatee and chipped black nail polish adorning his fingernails, Joby looks every inch the rock 'n' roll star.
Thankfully enough, considering his sartorial tastes, this is true; Joby is the frontman and guitarist of his own metal outfit that, to judge from a long distance phone call he makes to one of his band mates, is falling apart at the seams.
Truth be told, Joby has a hard enough time keeping his own life together, with his latest bail on band practice inspired by his desire to right a wrong from his not so distant past.
Meeting his non communicative spouse at a snow drenched cabin with their respective lawyers, Joby and his soon to be ex-wife agree to thrash out the finer details of their impending divorce.
Despite the frosty reception, our tortured protagonist doesn't seem to have too many problems with this; until his lawyer points out that Joby is also signing away all paternal rights to his daughter Ellen.
Battered down by life as well as his estranged wife, Joby struggles to work out what the best thing he can do for his daughter as well as himself.
Written and directed by So Yong Kim, For Ellen is the story of a young man trying to come to terms with the choices and frequent mistakes he has made in his short existence so far.
Inspired by Kim's own absent father childhood, Paul Dano plays Joby Taylor with frustration and desperation at the situation he has found himself in.
As many young men end up doing intentionally or otherwise, his character essentially sacrificed his young wife and daughter for his own dreams when the opportunity of rock and roll fame came knocking.
Dano is in almost every scene, so if you're not a fan of his awkward acting presence and angular features For Ellen might not be for you.
But he is convincing enough in this subtle exploration of twenty something male behaviour and effectively inadequacy as Joby can no longer run away from the stark reality of the choices he's made.
Jon Heder of Napoleon Dynamite fame has the most significant supporting role as Joby's lawyer, whilst Shaylena Mandigo as Ellen will melt your heart if not the frozen tundra that smothers nigh on every shot in Kim's film.
I'm not quite sure what to make of For Ellen though. It's a perfectly executed indie drama, carrying off some awkward subject matter in a slow burning style. But it rarely made me feel anything about the main characters until the introduction of the titular Ellen herself in the final act.
So I guess I'm in a rut about how to end this review, and I doubt any AA man or woman would be able to fix this.
Jonathan Campbell