Snow White And The Huntsman Blu-ray Review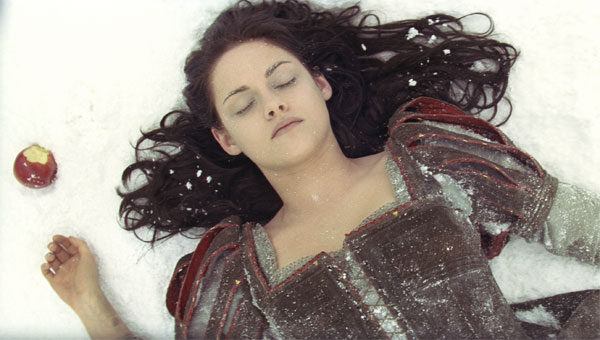 A birth is meant to be a joyous event, a celebration of life and love.
So when it brings about the opposite effect, the results can be devastating.
Take Snow White for example, a child born of love but entwined with the guilt that soon after her birth her mother dies.
With her heartbroken father and king now without a queen, he goes off to fight an invading army that have arrived on his kingdom's doorstep.
Having vanquished this mystical enemy, he finds a beautiful prisoner and takes her as his new queen.
But it would seem beauty and the absence of love has robbed this king of any wisdom and insight he once possessed.
The ruined army was merely a Trojan horse conjured by a skilled sorceress called Ravenna, allowing herself to be captured and letting anyone foolish enough to believe beauty is only skin deep to fall for her.
Having stabbed her new husband on the wedding night, the new Queen takes over the kingdom and imprisons Snow White for good measure.
Many moons pass, and many troubles befall this once glorious land until the now teenage White escapes and sets about finding a way back to her people.
But with a huntsman and an army on her tail, will she be able to meet her destiny?
Snow White And The Huntsman is probably most famous for all the wrong reasons these days, following the revelation that Kristen Stewart and Rupert Sanders got a little closer than actor and director should during filming.
Which is a shame, as the visual imagination displayed by Sanders brings a new life to this reimagining of a classic fairy tale.
Having cut his teeth directing adverts, Sanders' graphic imagination displayed throughout his first feature film often left me awestruck.
With brilliant special effects, luscious vibrant colours and fantastical ideas that seem to take inspiration from anime classics like Princess Mononoke, Sanders has created a reality for Snow White that takes you to a far darker place than most films about this iconic tale have.
Charlize Theron as Ravenna is equal parts terrifying and lost little girl in a more human incarnation of the evil queen, Chris Hemsworth is drunkenly noble as the Celtic huntsman who plays his part in the Snow White mythology and then there's the seven dwarves with seven famous faces who provide some comic relief and more special effects wizardry for us to marvel at.
But I guess everyone's most interested in Kristen Stewart and her portrayal of Miss White.
Not being a fan of the Twilight behemoth, I simply don't get what the big deal is about this young actress; there doesn't seem to be anything particularly remarkable about either her or her acting.
While Stewart is committed as the teenage girl version of Snow White, the transformation this role demands of her as she becomes leader of a violent uprising is far less believable.
This particular trick would be difficult for anyone to pull off, but surely it'd have been better to cast someone older and wiser who looks young yet could also bring greater experience to the warrior version of Snow White.
Still, I rather liked the spirit, imagination and execution of Snow White And The Huntsman.
And it'll be interesting to see who comes back for the already rumoured sequel and who gets recast or reborn as somebody else.
Jonathan Campbell