The Sweeney DVD Review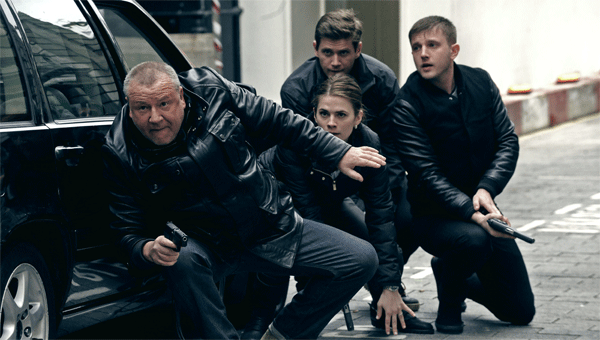 "Oi sunshine, get on the dog and find me those villains who blagged the tom."
If you have any idea what the above means, then the big screen revamp of The Sweeney is likely to be your cup of Rosie Lee.
Nick Love helms this adaptation of the seventies TV show, boasting more testosterone than The Expendables wrap party.
The Football Factory director's credentials are stamped on the film early on, during a police raid which is strongly reminiscent of a match day brawl between Millwall and West Ham. Police using baseball bats? Wait till the tabloids get a load of that one.
Ray Winstone and Ben Drew take the lead roles as, respectively, DI Jack Regan and DC George Carter. The former does his usual imposing-swagger thing (albeit well), whilst the latter particularly impresses in a role I wasn't sure he could pull off.
The grizzled-veteran-paired-with-hothead-rookie formula was becoming a bit of a cliché even at the time of the original TV series, but Winstone and Drew nicely put their own spin on it.
Damian Lewis takes a break from Homeland to get his cockney on as DCI Frank Haskins, though is vastly underused.
The film's plot recalls the type featured in the original 48-minute TV episodes: Regan and Carter race against the clock to solve a mystery, with a few car chases, witness interrogations and shootouts sprinkled hither and thither.
The story revolves around a possible bank robbery (tipped off by Alan Ford in an inevitable cameo) in central London. In the meantime, a small jeweller's is hit by a gang of thieves with bloody consequences. Are the two incidents connected? Regan and Carter punch and swear their way around London to find out.
One small observation: as adept as the pair are when it comes to beating up lowlifes and raiding pool halls, you'd imagine they would crack the case a bit quicker if they just stopped and used the little grey cells more. Detecting seems to take a backseat here in favour of hanging informants off rooftops.
But what do I know? As Regan would doubtlessly growl at me: "We still do the fings you can only dream of."
As a stand-alone action movie, it all works well. A much lauded shootout set in Trafalgar Square is particularly impressive. And gratuitous birds-eye shots of London see the city at its very best.
As an update of the TV show, does it work? Well, it's hard to say if John Thaw's honest, old-fashioned Regan would approve of Winstone's corrupt, c-bomb-dropping interpretation, but maybe this says more about how society has moved on in thirty odd years: what was considered edgy then has now sadly moved in a much more extreme direction.
The ending annoyingly ties up the majority of loose ends a little too neatly for my liking, although this is arguably done to pave the way for the sequel, box office willing.
All in all, nothing new but solid for what it is. Worth a butchers.
Conor Brennan