Spike Island Review
Sorted.
Our kid.
Sunsheee-ine.
Melons being twisted.
Incoherent Scottish football managers.
All of the above conjure images of mighty Manchester, the jewel of the north; and that's without even mentioning the music.
I asked an Australian friend once if they'd heard of the Stone Roses and Oasis to which they uttered: "Oh yeah, I've heard of the Gallagher brothers, but I've never heard of those Stone Flower people."
Which sadly proves that innate talent doesn't always equate to global fame.
Fortunately then that Mat Whitecross' film Spike Island pays tribute to one of Manchester's greatest bands, beating Shane Meadows' upcoming 'Roses documentary to the screen.
The story, set in 1990, revolves around five teenage friends hell-bent on travelling across the country to see their beloved Stone Roses play a gig at Spike Island in Widnes.
Along the way the gang fight, fart and fall in love; but will they manage to blag their way into the concert without a ticket?
We're introduced to the boys as they break into school at night, for no other apparent reason than larking about.
They all seem to have been christened right out of The Big Guy Ritchie Book O' Laddish Nicknames, boasting cheeky monikers like Tits and Dodge.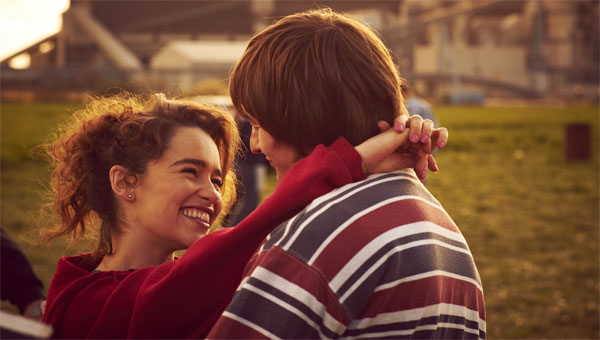 Spike Island starts off with a bit of adults-don't-understand-us angst and some it's-grim-oop-north clichés, before finding its focus: the overwhelming need for this group of friends to get to the concert.
Whitecross keeps the pace zippy, whilst maintaining the nostalgic vibe. Think This is England '88, but two years later.
With a slight dash of The Inbetweeners.
The primary ingredient used is sheer nostalgia. Think acid tabs, baggy jeans, curtain haircuts and communication breakdowns which could have been resolved "if only we had one of those new Motorola's".
The cast are willing, able and will have you scratching your head in a constant state of "where have I seen them before?"
The answer being a range of high quality TV shows including Game of Thrones, Downton Abbey and, er, Hollyoaks.
The beautiful Emilia Clarke plays the love interest whilst Elliott Tittensor acquits himself rather charismatically in the lead role, with the actual presence of hair on his head rendering him virtually unrecognisable from his Shameless persona.
The mix of comedy and tragedy at play here feels a little unbalanced, often swaying from one to the other without ever fully hitting either.
And after all the build-up and countdown reminders, the concert itself feels a little rushed; with footage of this only clocking about ten minutes of screen time.
Still, Spike Island packs more Mancunian swagger than Bez and Liam Gallagher engaged in a high stakes swagger-off competition, and it'll have you shuffling through the 'Roses back catalogue on the tube ride home.
Or maybe that's just me.
Conor Brennan