Rush Review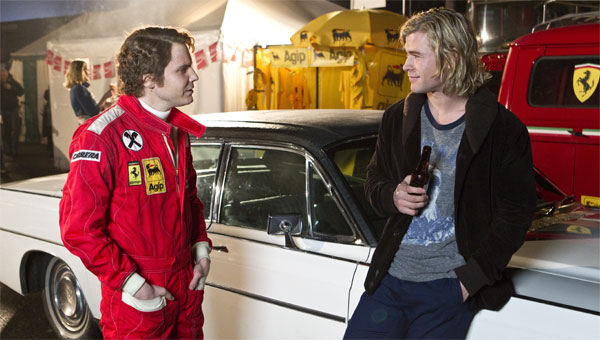 Formula One is the most boring sport in the world.
There, I've said it.
Bland, millionaire playboys driving around in endless bally circles on rockets with wheels attached, and at the end the best German driver of his day wins.
Hell, I was just being kind calling it a sport.
As you may have guessed, I'm not much of a motor racing fan.
How then to explain my love of Rush, the new film inspired by the real life rivalry between chalk and cheese drivers James Hunt and Nikki Lauda?
Well, for starters, it's from a time when Formula One was actually fun.
Or, to give it a more accurate label, life threatening.
It's the seventies and the age of the peacock, where men are allowed to strut around in open necked shirts unbuttoned to the navel, grow their hair long and jump on anything that looks like it might be a good ride.
Boy was I born in the wrong era.
But James Hunt wasn't, and his dashing good looks coupled with a medically unhealthy dose of devil may care charisma makes the womenfolk who come across him go weak at the knees.
Hunt also drives cars, pretty damn fast.
He's no über efficient driving machine, nor a particularly great athlete; Hunt just goes out there thinking he's cock of the formula one walk and puts his balls on the line every time he steps into a car.
He's also acquired the nickname "Hunt the shunt", for his overly aggressive approach to getting to that chequered flag first.
And then there's Nikki Lauda, the sober Austrian yin to Hunt's raging English alpha male yang.
Lauda thinks with his big head instead of his little one, and even managed to talk his way into a formula one drive on nothing more than how he can set up his car.
This Austrian's methodical and scientific approach to racing eventually sees Lauda get to drive for Ferrari, while Hunt languishes in smaller teams because of his reckless approach to racing.
But when McLaren need a new driver at short notice, Hunt gets his big chance to pit ego and go head to head with Lauda in a season that came to define them both.
Rush is the latest film from Ron Howard, the actor formerly known for playing Richie Cunningham, and does exactly what it says on the cinematic tin.
Based on real events from the 1976 Formula One season, fate deals our two protagonists a story that fiction simply couldn't come up with.
Chris Hemsworth plays the serious playboy Hunt, who's also a serious driver when the situation calls for it, and Daniel Bruhl is just as impressive as his pragmatically polar opposite Nikki Lauda.
And you don't even have to be a fan of driving to get a thrill out of Rush, as Howard and writer Peter Morgan have engineered a script that is more about the men themselves than the feats of daring do they perform in their expensive big boys toys.
So Formula One may be the most boring non-sport in the world these days, but Rush will take you on a thrilling ride back to its glorious and deadly past.
How can you not love that?
Jonathan Campbell