The Judge Review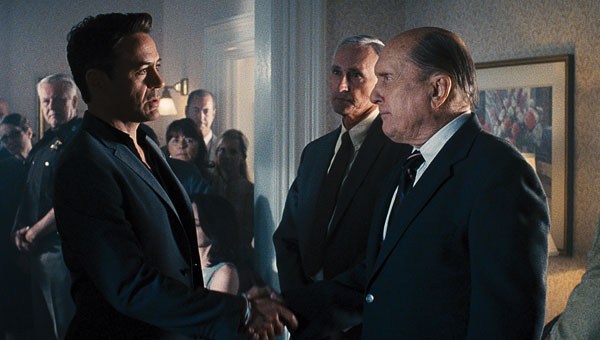 I was a big fan of David Dobkin's feature film debut, Clay Pigeons.
It was original, it was quirky and it was dark.
Several years later came the box-office hit Wedding Crashers, more of a mainstream comedy, but just as enjoyable.
Several more years later, and Dobkin is at the helm of new Robert Downey Jr vehicle The Judge, turning his hand to earnest melodrama in the process.
The film tells the story of big-shot city lawyer Hank Palmer, a cocky, amoral sort who only defends the guilty as, quote unquote, the innocent cannot afford him.
No sooner can you say 'enriching character arc', Hank receives a phonecall calling him back to his rural hometown for his mother's funeral.
It is with some reluctance that Hank agrees to attend, awkwardly bonding with his brothers Dale and Glen on arrival, and even more awkwardly bonding with his father, Joseph (Robert Duvall).
Joseph is the town's judge and his belief in the law is as fervent as his disapproval over his son's manipulation of it.
Cue a day or so of family tension and Hank is soon hotfooting it back to the airport, only to again receive a call, this time advising that his father has been pulled up by the local police on a suspected hit-and-run.
Hank returns once more to defend his father's name and, while he's at it, spring-clean a few skeletons from his family cupboard.
Oh, and Vera Farmiga pops up along the way as the obligatory old flame.
The story has the potential for unflinching depth, but ends up disappointingly drizzled in schmaltz, as family melodrama plays out against Kodak-grade scenery, all to the warm sound of steel guitars.
Part of the problem is the uneven balance of light homecoming comedy and heavy legal drama: the film constantly shifts gears between the two, and comes away feeling like neither.
Add to that a compensatory abundance of epilogues, and a distracting sub-plot involving the local barmaid, and the result is a bit of a muddle.
But let's face it: the real reason people are going to buy the cinema ticket here is to watch stars Duvall and Downey Jr go head to head.
The former is frankly superb, particularly during one vulnerable, tear-jerking bathroom-set scene.
Downey Jr meanwhile peddles that particular brand of doe-eyed, verbal staccato which he admittedly does well. The ghost of Tony Stark however looms heavy over proceedings.
The rest of the cast do what they can: Farmiga has limited screen time, as does Vincent D'Onofrio as Hank's brother. Dax Shepherd, however, seems like he's wandered in from another movie entirely.
The big disappointment is the handling of Billy Bob Thornton's character, Dwight Dickham, a rival lawyer and ostensible antagonist.
You feel that courtroom sparks will fly between Dwight and Hank, but aside from a spikey police station confrontation, the pairing proves a bit of a damp squib.
The film may push some people's emotional buttons, but for me feels like an inflated made-for-TV movie, albeit one with bigger stars and higher production values.
Conor Brennan