Yesterday Review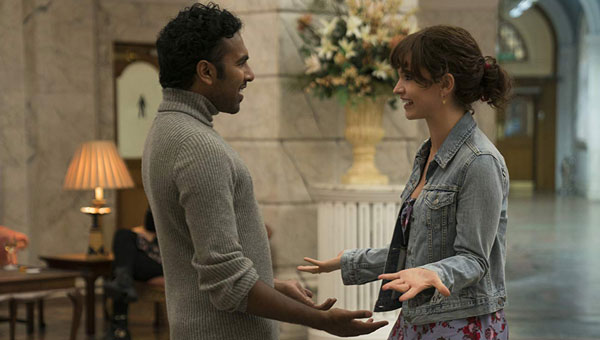 It's not much of a stretch to point out all the ways that films are like drugs: they transport you to another reality; they lift or lower your mood; and they can either send you to sleep or leave you craving more.
If films are drugs, then Richard Curtis is a master pharmacist. No matter what, I generally end up leaving his movies with a big stupid smile on my face and in some sort of feel-good trance.
With Yesterday not only do you have Curtis on writing duties, but Danny Boyle directing. Two masters of their craft, and I had no idea of their involvement when I put my name forward for the screening.
I had signed up because I saw the trailer, thought that it was an interesting, original premise and recognised the main actor from somewhere. Simple as that.
My intrigue was rewarded.
Jack Malik (Himesh Patel) is a struggling musician in his late twenties, desperately gigging around Suffolk and hanging on to a much-loathed day job. His manager and friend Ellie (Lily James) still believes in him, though no one else seems to.
Jack is on the verge of giving up and going back to teaching, when one fateful night he gets knocked off his bike by a bus during a global power outage.
When he comes to, Jack slowly realizes that no one in the world remembers who the Beatles are. Apart from him.
Jack then returns to the local music scene, belting out Beatles hits as his own and eventually attracting attention from studio owners and music execs.
The film has a Groundhog Day feel to it, purely in the sense that an unexplained and seemingly supernatural event occurs which merely acts as a prism through which to explore wider concepts.
Here, as with Groundhog Day, there is a romance element, but the film is equally about the pursuit of fame, the obtaining of fame and then the appraisal of whether or not fame is, or has been, worth it all along.
It's a well-trodden path, but rarely trodden as lightly or with as much fun as in the company of Curtis and Boyle.
Patel, in the main role, is a classic Curtis leading man: he's easily flustered and uncomfortable in this own skin, but in a charming way. I first saw Patel in Eastenders about ten years ago and am surprised that it's taken him this long to make it to the big screen. Worth the wait, and matched in charm by Lily James.
Patel and James are surrounded by a wealth of comic talent in the form of Sanjeev Bhaskar, Meera Syal, Kate McKinnon and Karl Theobald, not to mention Joel Fry's hilarious turn as Jack's best mate.
If you can leave behind the idea that this is one big cynical plug for the Beatle's back catalogue and instead get on board with the zany concept and warm characters, this will no doubt leave you as much on a high as it did me.
Conor Brennan