Rebecca Review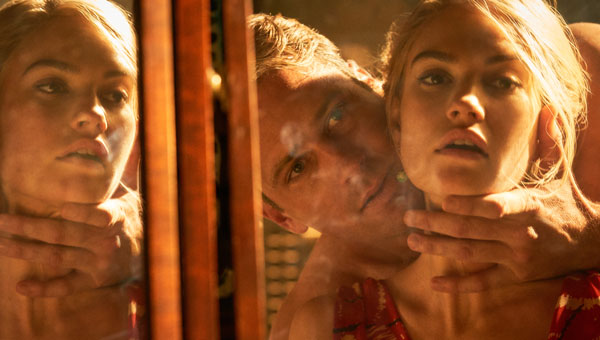 For some reason, I have never seen Hitchcock's adaptation of Rebecca.
That's fine for the purposes of this film review, as the 2020 version is apparently not a remake but another adaptation of Daphne Du Maurier's novel. Anyone worried about a Gus Van Sant situation can breathe a sigh of relief now.
I should add: for some reason, I have never read Du Maurier's novel either.
In an attempt to claw back credibility, I can say that I am a fan of director Ben Wheatley's work and was excited to see what he would do with what sounded like a very un-Ben-Wheatley type of project.
For those who have dreamed of going to Manderley again, you may wish to skip the following plot summary. For those who are unfamiliar with the story, read on.
Our narrator (played by Lily James) meets the enigmatic Maxim De Winter (Armie Hammer) whilst he is on holiday on the French Riviera. She is working as a companion to the wealthy Mrs Van Hopper; he is still in mourning for his wife Rebecca, who died a year earlier. A spark ignites between the two.
It's your typical romantic tale: girl-meets-boy, boy-still-clearly-has-psychological-issues-around-the-death-of-his-wife, boy-and-girl-get-married.
After honeymooning in Europe, Maxim takes the new Mrs De Winter back to his country estate, Manderley, in Cornwall.
The household staff all clearly still hold deep affection for Rebecca, none more so than the head of housekeeping, Mrs Danvers (Kristin Scott Thomas). The new Mrs De Winter struggles to fit in and live in the considerable shadow of Rebecca.
Apart from one or two scenes, most notably during the masquerade ball when Mrs De Winter is at the height of her disorientation, this is very much a Ben Wheatley film without many Ben Wheatley-isms. This is not a bad thing as the director was presumably trying to do something different from his usual fare.
Much like football is a game of two halves, this is very much a film of three parts. The opening act has the comfortable, sumptuous feel of an Anthony Minghella period piece. When the action shifts to Manderley and Mrs Danvers appears, things kick up a notch and the tone turns darker and more unsettling. The final strait of the film then gathers pace, culminating in an Agatha-Christie-esque denouement.
The main Manderley stretch feels most effective, showing the haunting power of a person's memory and the imprint of their loss on those left behind.
The parts all add up to something quite satisfying, but it is the performances which truly stitch it together.
Scott Thomas is absolutely inspired casting as Danvers, conveying so much thinly-veiled hostility with the most minimal of facial expressions; James' frenetic performance is largely pitted against this, wearing all her mounting strain, confusion, self-doubt and jealousy on the surface.
Hammer, playing third fiddle, is sufficiently charismatic as De Winter, and Sam Riley is worth noting for bringing edge to the smaller role of Jack Favell.
Fans of Hitchcock's film may struggle not to compare versions but, taken on its own merits, this is a solid and moving effort from all involved.
Rebecca is out in cinemas now and streams on Netflix from 21 October 2020.
Conor Brennan