The Cold Light of Day DVD Review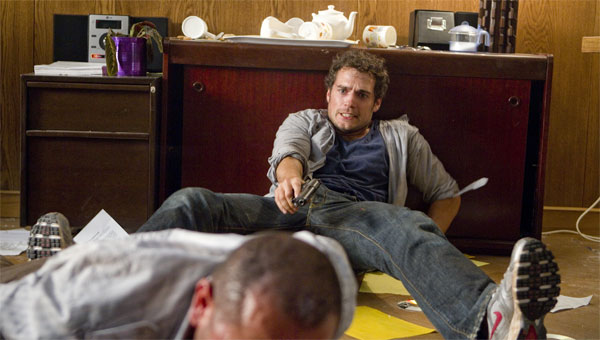 Your family's been abducted, you've no money, rogue intelligence agents from your own government are hunting you down and you're in a foreign land.
Which all sounds like something that should add up to a typically great action film, so you can probably guess how things end up in The Cold Light of Day.
Henry Cavill, aka the new Clarke Kent, is Will Shaw; a late twentysomething business consultant on a family holiday in Spain.
There's some unexplained hostility between him and his father Martin, played by a stiff but always brooding Bruce Willis, and when tensions rise Will decides to take some time out on the mainland.
He returns to find the family yacht ransacked with his nearest and dearest missing.
After coming close to falling into the clutches of some corrupt Spanish authorities, Henry's reunited with his father who fills him in on all the clichéd details.
Martin is in fact a CIA agent, and his involvement in a deal with a mysterious briefcase full of government secrets is the reason why their loved ones are missing.
Armed with only his father's mobile phone and a gun that seems to have a magical supply of bullets, Will races against time and conspiracy theories to save his family and stop the this mysterious briefcase from falling into the wrong hands.
Ok, so I have to be completely honest and say I had to watch this film twice because I fell asleep about 20 minutes into my first attempt.
In the middle of the day.
That's how riveting The Cold Light Of Day is.
Writers Scott Wiper and John Petro deliver a flawed, underdeveloped and shallow plot providing no backstory for the characters, so you don't care about what happens to them.
Not a good thing.
Even big wigs Willis and Sigourney Weaver, who plays Will's mother Carrack, can't breathe life into director Mabroul El Mechin's corpse of a film.
In what could be a bad omen for superman fans, Cavill proved to be an unconvincing lead.
The Brit actor struggled to maintain his american accent throughout and there was no real depth to his acting and distinct lack of facial expressions.
The only convincing moment from Cavill was when he passes out from the pain of having a bullet wound treated.
The boy does a really good passed-out guy.
While there are a couple of shots that captured the beauty of Madrid and the Spanish coastline, the action scenes and fight choreography were minimal, clumsy and forgettable.
It felt like El Mechin decided to see how many different camera angles he could fit into one movie.
Turns out it's lots, and way too many.
Cutting shots every two seconds in long and hectic car chase scene doesn't evoke excitement, it just makes you wonder when the dizzying nonsense will end.
The only highlight was the supporting Spanish cast, particularly Verónica Echegui, who added some much needed energy to an otherwise bland action thriller.
El Mechin had all the elements that should make for a great action film here; the young heart-throb type lead, car chases, gun fights, one on one combat, as well as a couple of action veterans in Willis Weaver.
But The Cold Light of Day lacks any real suspense and failed to get my heart racing, the adrenaline rushing or even make me care about what happened to the main characters.
If you're looking for any of the above, I wouldn't recommend this by numbers feature.
But if you're suffering from insomnia, then this might work a treat.
Katherine Curnow