Ted DVD Review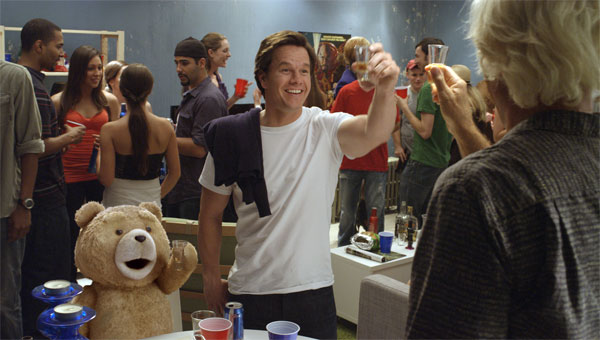 You want to hear a funny story about 9/11?
Well, ah, relatively speaking.
A now famous writer, director and voice actor was supposed to be on one of those planes that flew into the twin towers that fateful day, but missed his flight because he was running late.
And that person was Seth MacFarlane.
I think.
I mean, I remember hearing this about the man behind Family Guy a while back, but now that I've written it down it sounds like one of those urban myth type things the internet tends to spawn.
But Wikipedia says that it's true, which is good enough for me and, even more bizarrely, that his Ted co-star Mark Wahlberg was also meant to be on said flight.
So in a lot of ways, it's a miracle that MacFarlane's first feature film ever made it to the big and now not so big screen.
Ted transfers the charmed funnyman's particular brand of comedy from cartoons to real life and real CGI action.
So we've got a familiar institution from our childhood, in this case the humble teddy bear, that MacFarlane has twisted into a very adult world; which means plenty of inappropriate but hilarious jokes about drugs, sex and god awful nineties rock and roll.
Ted comes into this world when a special child makes a wish one christmas; that his new, talking teddy bear would come to life so they could be best friends for real.
And I guess Santa, Jesus, Batman or whatever other made up deity you want to believe in must have been listening because this wish comes true.
As the world's first real, talking teddy bear, Ted becomes something of a celebrity; doing the tv chat show rounds, taking advantage of impressionable young girls before the inevitable drink and drug fuelled meltdown comes to ted-town.
Still, through all of this, Ted doesn't forget who his best friend is.
Hint, it's the kid who wished for him to be real.
And that kid, aka John Bennett, hasn't forgotten either.
But now they're in their mid-thirties, though who knows how old that is in bear years, is Ted and John's special relationship still such a good thing, or is it holding them back from growing up?
I remember reviewing Ted on its cinema release and it was a laugh riot.
All the trademark ingredients of a Seth MacFarlane production are there, from his un-pc humour, pop culture references of cinematic classics like Flash Gordon and Indiana Jones to the inevitable and overly long fight sequence.
Only this time, there's no chicken to be seen.
Like any comedy where you know when the laughs are coming, Ted loses a little of its stardust the second time round for me; but it's still good fun.
And MacFarlane's been smart enough to include an uncut version along with the original edit of Ted, so there are still new laughs to be had.
Still, if you only take one thing from this review I hope it's that being late for things ain't so bad after all.
In these crackpot times of have a go terrorists, it's actually the best way to stay alive; as Seth MacFarlane may or may not attest to.
Because if there's one thing you can guarantee in this life, it's that religious nutbars hell-bent on a meeting with their fictional maker are always on time.
Jonathan Campbell