Chinese Puzzle Review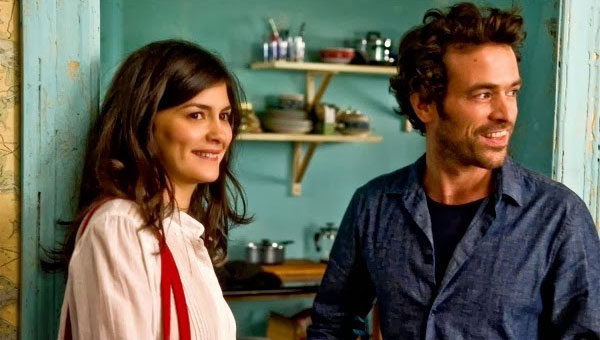 It's official: I have a bad track record when it comes to sequels.
When I was a nipper, I made the grave mistake of watching Star Wars 4 and 5 in the wrong order. This led to much confusion and a complete misreading of one of cinema's greatest plot twists.
Clearly I haven't learnt much from my mistakes, as I merrily headed along to watch part three of Cédric Klapisch's Spanish Apartment trilogy, Chinese Puzzle, without having seen the first two films.
I was fortunate in two respects.
Firstly, I did love the only other Klapisch film I've seen to date, Chacun Cherche Son Chat.
And secondly, his latest film doesn't require much background knowledge to win you over.
The final trilogy instalment follows forty-year old novelist Xavier (Romain Duris) and his marital break-up with Wendy (Kelly Reilly). She ups and moves from Paris to New York, bringing the kids with her.
Xavier is left suffering somewhat of a mid-life crisis, comparing his jumbled life to a, well, chinese puzzle. He uses his feelings to fuel his latest novel; cue the old story-within-a-story cliché.
The film initially flips between the couple's life pre- and post-break-up, before soon taking on some sort of linearity. Xavier ultimately decides to follow his family's lead, move to New York and establish a life for himself.
The Spanish Apartment trilogy, which includes L'Auberge Espagnole and Russian Dolls, runs along the same tracks as Richard Linklater's Before Sunrise trilogy and Truffaut's series of Antoine Doinel films, following characters as they develop and grow throughout their lives.
Arguably, the film would therefore pack a bigger emotional punch if you were already familiar with the characters, but it remains highly enjoyable regardless.
Klapisch brings great energy and flair to proceedings, giving New York the kind of communal, appealing feel in which Woody Allen usually specialises.
It is also refreshing to have a film where the Anglophones are forced to speak French, rather than the other way around.
There is one point where the story almost undermines its own abundance of subtle comedy with a bawdy, comedy-of-errors climax, but this scene is fortunately reined in and remains in keeping with the overall tone.
Sure, the film as a whole may frustrate some with its seemingly meandering subplots, but, by their very nature these are central to the main theme, and to the lesson which Xavier eventually learns:
Yes, life is complicated and it doesn't always make sense. But so what?
Insert Gallic shrug here.
Duris is charismatic as a fish both geographically and emotionally out of water, and Reilly, Audrey Tautou and Cécile De France all shine as the various women in his life.
Tautou is great in particular, emanating that Audrey charm that we've all come to know and love.
And, in the same way that Klapisch previously introduced me to French funksters Ceux Qui Marchent Debout, this film is accompanied by a superb soundtrack courtesy of Klapisch's usual collaborators, Kraked Unit.
If you want a film which will leave you with a silly, life-affirming smile on your face, look no further than Chinese Puzzle.
Conor Brennan