The Voices Review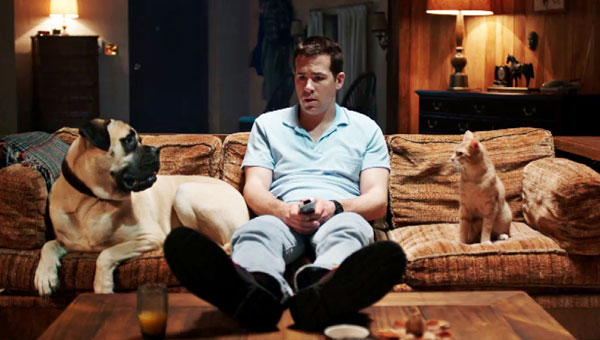 Serial killers, long since the preserve of horror thrillers, have become the subject of pretty dark satire over the last decade or two.
A certain Dr Lecter could easily be blamed, with Anthony Hopkins' interpretation leaping from antagonist to antihero in the space of one movie. American Psycho and shows like Dexter have perpetuated this trend, begging the question: what if the story was told from the point of view of the serial killer?
Into this subset neatly slots The Voices, a film by graphic novelist Marjane Satrapi, better known for 2007's Persepolis.
Ryan Reynolds, cushioned by the doubtless success of the upcoming Deadpool movie, makes an interesting career movie here with the role of Jerry, a small-town factory worker suffering from schizophrenia.
Jerry takes childlike enjoyment from his day job and spends his free time organising office parties, seeing his court-ordered psychiatrist (the tremendous Jacki Weaver) and conversing with his two pets, the feline Mr Whiskers and the canine Bosco.
His pets, however, talk back.
And soon Jerry adds homicide to his list of hobbies.
Satrapi's film starts well, embracing Jerry's idealised and sadly warped view of the real world, focussing mainly on his pursuit of colleague Fiona (Gemma Arterton).
And the performances are all committed (no pun intended), with Reynolds, Arterton and Anna Kendrick capably carrying the onscreen mayhem. Plus, the cat / dog double-act is a welcome upgrade on the traditional sinister-cat / faithful-dog dynamic (with both pets voiced by Reynolds, inexplicably channelling Scotland and the Deep South) .
The Voices then turns a bit darker, and that's where the tone starts to get muddled.
Sometimes this works, for example, by taking enough twists and turns to subvert all expectations of any kind of love story or redemption tale
At other times though, the film delves into matters which are disturbing enough to completely evaporate all humour, particularly in exploration of Jerry's childhood or his perception of the world whilst taking his meds.
In effect, we seem to be asked to laugh at Jerry's antics one minute, and then empathise with him the next.
This unevenness may result from this being Satrapi's first directorial outing with someone else's material, in this case TV scribe Michael R Perry, which might account for a lack of confidence in delivery.
But it all makes you wonder what the film would be like if it had the conviction to fully embrace the blackly comic theme throughout, similar to something like Heathers.
Then there's the deeper question posed by some scenes: are we being asked to laugh at mental illness?
The film is ambiguous about this point: just as proceedings are brought to a fairly respectable and incidentally sombre end, dignity is harpooned by a gaudy end-credits sequence which feels more than a little ill judged.
But if you relish black comedies, and are undisturbed by the story's back-and-forth flips to reality, you may just find enough here to sate you.
Conor Brennan