This Is 40 Review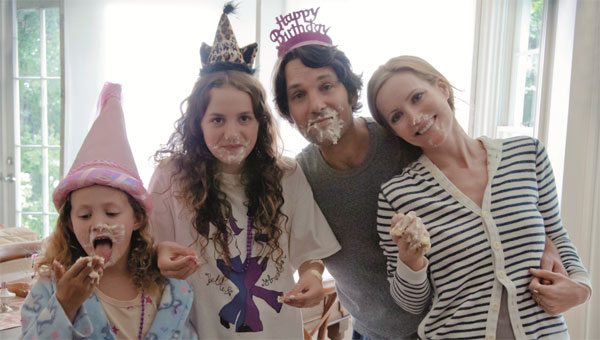 I'm a single, thirty-something year old with absolutely zero responsibilities in life.
Now there are times when I can't quite work out whether this means I'm winning or losing, but one thing I'm sure of is that Judd Apatow's homage to middle age, This Is 40, is a winner.
Pete is middle aged, in fact he's about to turn 40.
But his wife Debbie, who's most definitely not a week older than Pete, is only turning 38.
Lucky for her, I think.
They live in a suburban mansion with their two mostly adorable daughters, and spend most of their time trying to not let either of their equally dysfunctional father's derail the sort of domestic bliss they've made for themselves.
That's pretty much all you need to know about the latest Apatow flavoured comedy; that and it's bloody funny.
Based on a couple of supporting characters you may remember from Knocked Up, This Is 40 seems painfully autobiographical at times as the one man movie making machine known as Judd Apatow pulls no punches with his latest film.
Paul Rudd, the most likeable man in hollywood, plays Apatow's muse once more, but it's the writer, director and producer's wife Leslie Mann who brings out the loudest laughs for me.
Often dismissed for a series of supporting cameo roles in her husband's films, mostly by me, Mann is pitch perfect as a middle aged yet still yummy mummy struggling to keep the life she chose for herself in her twenties on track.
If Apatow gets credit for writing This Is 40, then Mann and their two real life daughters, reprising their roles as Pete and Debbie's kids from Knocked Up, must take a bow for inspiring the insightful female characters Judd has created for them to play.
There's more supporting talent on show then I can keep up with; from Chris O'Dowd as one of Pete's colleagues, she's so hot right now Lena Dunham as another, Albert Brooks as the most jewish father in law you could ever imagine and Megan Fox as, well, Megan Fox.
Her character, whose name escapes me, is hot and spends most of her time prancing around in very little clothing.
And I'm ok with that.
There's even room for Jason Segel, the up and coming challenger to Rudd's undisputed role of most likeable actor in the world, to return as his Knocked Up character of Jason reinvented as a personal trainer.
I can't remember the lives of middle aged folk being explored before in a mainstream comedy, so kudos to Apatow for opening up his own life and tapping into this rich vein of comedic material.
But after seeing This Is 40, I'm more than happy to wait for all the things most middle aged folk have to deal with
Jonathan Campbell