The Place Beyond The Pines Review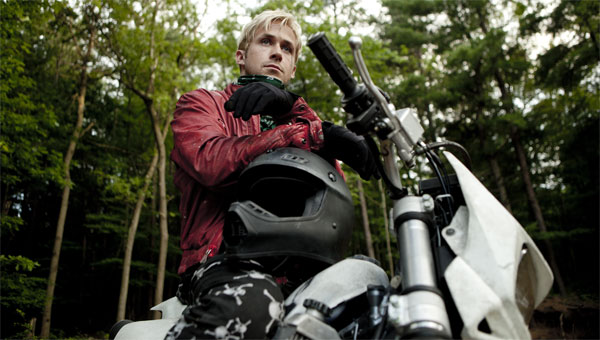 What does a thief look like to you?
In film, these things are usually pretty simple to work out; good guys dress up in white and the bad ones wear black.
But in director Derek Cianfrance's new film The Place Beyond The Pines, the colour scheme's a whole lot more complicated than this.
Luke Glanton is a hotshot moto bike stuntman who performs death defying feats of daring do with a local travelling circus.
With his bleached blonde hair, chain smoking tendencies, tattoo covered body and pretty boy looks, Luke also seems a pretty good fit for his nickname heartthrob, which the circus announcer seems keen on crowbarring in between his two given names whenever he can.
So when he leaves for the night, and a stunning looking girl called Romina hovers close by to see whether Luke remembers her from the last time his travelling circus passed through her backwater town, it's clear that our antihero can live up to his nickname.
Having stolen her heart, but still pretending that he hadn't, Romina is keen for one more ride on Luke's motorcycle.
I think.
So Luke happily obliges, only problem being, Romina's got another man in her life now.
What Luke doesn't realise is this boy's about a year old and that he's the father.
Naturally, it's a little more complicated than this, as Romina has since shacked up with the nicest provider she could find to take care of her and her kid.
Faced with the prospect of letting his son grow up without his real father, like he did, Luke has to choose between his life as a travelling heartthrob or find a way to become a provider himself.
And that's not even half of the story of The Place Beyond The Pines.
Writer and director Cianfrance's new film is a little atypical in a pleasing way, with the story split in three between a quartet of leading men spread over almost two decades.
Rather than have the audience follow the path of one character, The Place Beyond The Pines is anchored instead by its recurring theme of fathers and their sons.
That, and the idea that some thieves are more obvious and even honest about it than others.
Ryan Gosling reunites with Cianfrance, the man behind their previous cult hit Blue Valentine, to play Luke Glanton; a lost boy loner who makes his life about the only thing he knows he's good at, riding motorbikes.
As always with Gosling, he's just about pitch perfect in this role, swerving between the extremes of happiness and violence as he tries to handle the frustrations of his so called life.
Eva Mendes continues her upward acting curve from a mad Holy Motors cameo as Romina, and even does her best to look dowdy as a hard working waitress and young, struggling mother.
Of course, her picture perfect genes simply won't allow it.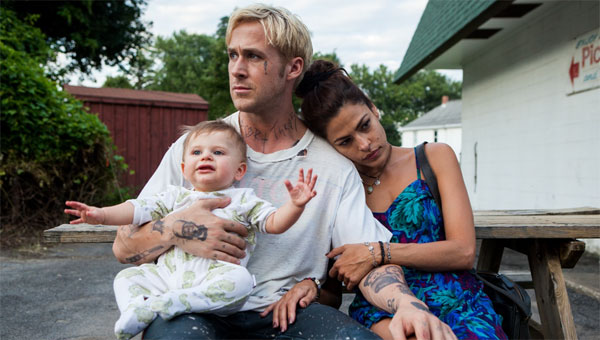 Bradley Cooper ends up with more screen time than Gosling as a dutiful and tortured cop, Ray Liotta plays his superior with an agenda and Ben Mendelsohn continues his beautiful streak of oddball portrayals as Luke's only friend.
And that's all I'll say about the cast, as you're better off coming into The Place Beyond The Pines cold; though I will say Dane DeHaan excels in a supporting role and, other than fast becoming one of my favourite young actors, is cut from the same school of acting as Gosling himself.
Set against some lush, natural backgrounds and a foreboding soundtrack, The Place Beyond The Pines is a well told and multi layered exploration of the different types and stages of relationships that exist between fathers and their sons, as well as the consequences these can carry.
And like I say, the good guys don't always dress up in white, and the real thieves don't necessarily wear black.
Just like real life.
Jonathan Campbell