Filth Review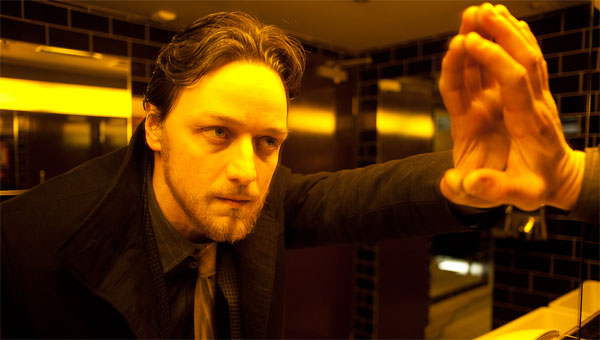 Love really hurts without you.
It's an upbeat song with a downbeat message from Billy Ocean, which means it's the perfect choice to play out the new James McAvoy shaped film Filth.
Bruce Robertson is a police detective in the greatest country the world has ever known, Scotland.
Ok, only half of that sentence sounds right, but as Robertson struts down some Edinburgh street, he reels off all the treat things Scotland has given the world.
Television, penicillin, whisky and, ah, the deep fried mars bar.
What's not to be proud of?
And Bruce has a lot more than most Scotsmen to be proud of.
There's his beautiful wife Carole, who admits to being the biggest tease going when we first meet her.
As she's dressed in stockings and suspenders at the time, it's fair to say she may have a point or two.
Then there's their sweet little girl Stacey and, given the way he talks about her, she's undoubtedly the proverbial apple of her father's eye.
On top of all this, there's an inspector's job going at his police station that detective Robertson is hot favourite to land, at least he is in his own mind.
But that's not enough for our Bruce, he desperately needs this inspector's job to make sure his wife carries on teasing the fuck out of him.
That, and because Detective Robertson is a winner.
So this charming wee bastard sets about removing the competition from taking his job by any means necessary.
Which includes, but is not limited to, obscene graffiti, cocaine snorting, prostitute banging, cock photocopying and shagging your colleague's wives.
But that's not Bruce's whole story, and as self destructive as he may be, Detective Robertson can not distract himself from his own truth forever.
Adapted from Trainspotting writing maverick Irvine Welsh, Filth is another genre defying, unpredictable laugh riot that pulls no punches.
Drugs, violence, sex and all that other good stuff is very present and correct in director Jon S Baird's adaptation, as is a bravura performance from James McAvoy as Detective Bruce Robertson.
His is the kind of role that most actors dream of playing, and the bonnie wee lad from Scotland doesn't disappoint as the conviction he brings to playing Robertson actually made me forget where McAvoy ends and his uber confident alpha male creation begins.
With more twists and turns then the rubber dinghy rapids at Alton Towers, Filth is a hard drinking rock and roll tale of what can lurk beneath the surface of some of those larger than life characters we all love and hate.
And the lengths some men will go to distract themselves from how much love really can hurt.
Jonathan Campbell