The Secret Life Of Pets Review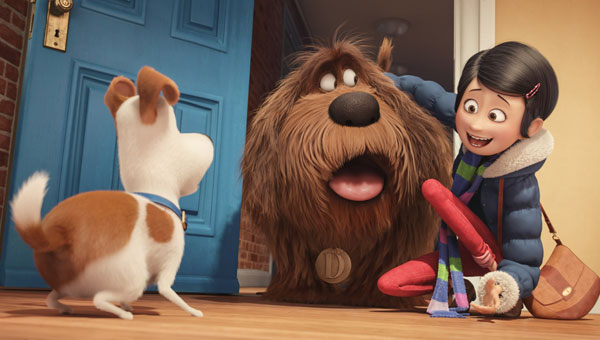 It really is a dog's life in The Secret Life Of Pets, this summer's long awaited animated adventure about what our pets really get up to when we're not around.
It's pretty much Toy Story with pets, and in the role of Sheriff Woody we have Max – a pampered terrier with a sweet set up. Rescued from the streets of New York City as a pup, he now lives with Katie, has bagged himself a spot on the bed and life couldn't be better.
A little obsessed with his owner, Max tries all the tricks in his canine book to keep her at home and with him 24/7.
But puppy dog eyes don't pay the bills, so once Katie leaves for work, Max's secret life begins.
His apartment block is filled with other pets, and these guys know how to make the most of their alone time.
There's a posh poodle who's more Metallica than Mozart, a budgie with dreams of being a fighter pilot and Max's best friend Chloe, a laid back cat with a fondness for food.
Add in parties being thrown all the time, and I really don't get why anyone would want their owner to stay home.
But Max still has to drag himself away from the front door after Katie leaves. He's clearly the alpha dog on his apartment block campus too, with his number one bitch being Gidget – a peppy Pomeranian next door with a big crush on Max.
Sadly for her, our leading canine only has eyes for one girl and it's not long before he's back at his door, pining for Katie's return.
Unfortunately, this time she's not alone. Enter Duke, an oversized mongrel and Buzz Lightyear type who can't quite believe his luck.
Homeless and rescued by Katie, who clearly has a type, Duke quickly sets about making himself at home, much to the despair of Max.
Reluctant to accept Duke as his new 'brother', Max enters into a testosterone fuelled contest with Duke to be Katie's favourite dog. Only they go too far and end up lost in the city.
Max and Duke's only hope desperate of getting back to Katie is to work together. And they'll need to if they're going to overcome ninja cats, animal control and the Flushed Pets sewer gang to make it home in time for dinner.
The story behind The Secret Life Of Pets may be familiar, but the characters and script feel fresh. Particularly Snowball, a maniacal white rabbit and leader of the Flushed Pets who seems as though he's one carrot juice away from the edge.
Voiced by Kevin Hart, this fluffed up bunny provides most of the adult laughs here, and one sausage factory scene come acid trip will leave you wondering who the real audience for this family film is.
The animation is impressive, as vibrant colours and exaggerated cuteness of these animals are combined with real life quirks to draw out each character's personality.
The Secret Life Of Pets is a fun, heart warming story that had me laughing the whole way through and also convinced me I need a pet in my life.
Maybe something badass like a hedgehog?
Joanna Campbell