Seven Psychopaths Review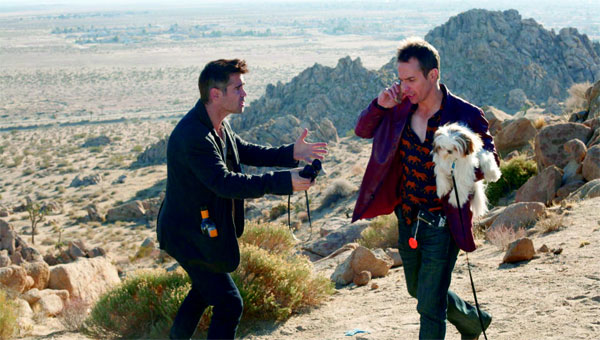 So, an Irishman, a Hollywood legend and an acting madman walk into the desert.
Now I'm not sure what the punchline for this is supposed to be yet, but the end result is bloody funny.
Martin, sorry, Marty is a writer, but he's in trouble; he's forgotten how to write.
Either that or he's got writers block or some other bollocks.
Having scored a big hit with his first script, the pressure's now on this Irish lad to produce the goods for his second film; especially as Marty's become accustomed to living the high life out in LA.
And by all accounts, has turned into a bit of an arse.
Luckily, he's got a good friend in Billy to look out for him.
So even when Marty's being a dick, Billy doesn't take it to heart and continues trying to steer his best friend in the right direction.
Either that or our supporting act wants a writing credit on Marty's new script.
Seeing as the man himself has zero ideas right now, Marty listens to what Billy has to say about psychopaths.
Seven of them to be precise.
And it may be the drink in him, but Marty starts thinking this is a good idea; better yet, his writing block seems to have cleared up now Billy's given him a jump start.
So it looks like he'll be getting that credit after all, which is what it's all about for most of us.
But as Marty begins to flesh out the seven psychopaths for his new script, with a little help from his friend, so his life starts to dangerously imitate life a little too close for this Irishman's liking.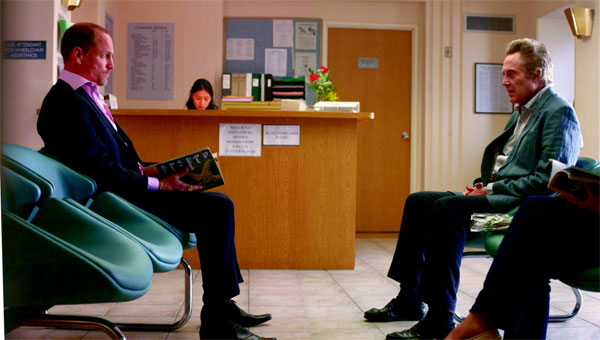 Written and directed by Martin McDonagh, the man behind cult classic In Bruges, Seven Psychopaths beats a similar darkly comic rhythm by mixing a twisted sense of humour with the deadly threat of lethal violence.
Which is just up my street.
Everyone's favourite Irishman Colin Farrell reprises his leading man role from In Bruges, this time playing the in no way autobiographical character of hollywood screen writer Marty.
For McDonagh's own health and indeed sanity, I do hope his life didn't imitate this art too closely.
The always brilliant and seriously underrated Sam Rockwell plays Marty's best friend Billy, and there's more big names and famous faces queuing up to fill the rest of the cast than you can shake a ballykissangel stick at; most notably Christopher Walken as Billy's sort of mentor Hans.
But it's my main man Sam who steals everyone's thunder with a schizophrenic role that just seems to be a perfect fit for his oddball charms, which is meant to be a compliment.
Admittedly, it's often easier for supporting acts to upstage the emotional journey a protagonist has to take with a larger than life performance, but no one supports a leading man quite like Rockwell does.
And while the script doesn't feel as sharp or original as In Bruges, it pulls off that rare trick for a comedy by managing to get funnier as the story goes along, instead of just fizzling out after the first half hour.
So while I'm still not sure how to finish off my opening for Seven Psychopaths, one thing I can guarantee is this; it wouldn't be half as funny as Martin McDonagh's new film.
Jonathan Campbell