The Grand Budapest Hotel Review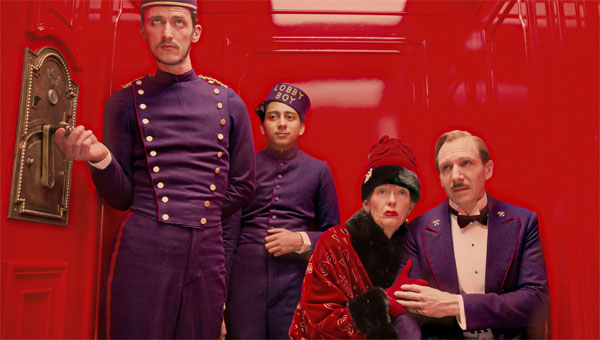 Lobby boys.
They should be invisible yet always there when you need them.
Which doesn't sound like the easiest job in the world to me, but then neither does the idea of selling a film based on the life of a lobby boy or two.
Which is probably why I'm not cut out for a career in the service industry, and most definitely why I'm no cinematic genius like Wes Anderson.
We begin with a story retold by an old man, who's retelling an even older story he was once told over dinner in one of the finest hotels in all the lands.
Which is a good thing, as The Grand Budapest Hotel would be a tad misleading for a name if it wasn't so very grand.
This storytelling mixed with fine dining experience took place for our narrator in the sixties, after the red Soviet curtain had been draped across most of Eastern Europe.
And the now understated decor and facilities of Budapest's finest hotel has long since fallen into both modesty and disrepair.
But back in her glory days of the early twentieth century, the Grand Budapest Hotel was a sight to behold in a regal collection of glorious pinks and purples and golds.
The world's most noble and wealthiest folk would stay at the Budapest in those days, which was mostly made up of moneyed widows due to this era of war folk found themselves in.
These rich dames stayed at the hotel for its luxurious surroundings, but they came for the Grand Budapest's peerless concierge, Gustave.
In more ways than one.
Gustave is something of a legend at the Budapest, with the hotel's splendid and meticulous grandeur a fitting reflection of its concierge's own very particular and refined dandyish tastes.
But when one of the hotel's wealthiest clientele dies in mysterious circumstances upon leaving the Budapest, Gustave immediately sets off to pay his respects to one of his favourite septuagenarian lovers.
Little does he realise the chain of events this will set in motion, so it's fortunate that Gustave's brought his hotel's newest lobby boy along for the ride.
The Grand Budapest Hotel is the latest in a long line of idiosyncratically brilliant films that the even more brilliantly idiosyncratic Wes Anderson has brought to the big screen.
I understand Anderson is one of those directors that can polarise opinions; many revere him for his originality and his meticulous attention to detail in the cinematic worlds he creates, whilst almost as many can't stand what they see as the random indulgences of a leftfield auteur who makes vanity projects rather than films.
I guess perhaps both of these camps are right, but I most certainly fall into the latter one.
And the more self-indulgent and random Anderson's films are, the harder I fall in love with them.
Judging by the number of both brilliant and popular actors queuing up to be in his films, this is a common response.
And even for a Wes Anderson film, the cast of The Grand Budapest Hotel is quite ridiculous.
Regular collaborators including Adrian Brody, Jason Schwartzman, Owen Wilson, Willem Defoe and of course Bill Murray all turn up in supporting roles but, as is his wont, Anderson has sought out a new muse as his leading man, and Ralph Fiennes doesn't disappoint as the world's most exacting concierge.
The English gent plays Gustave as a dandy with a penchant for interminably long poetry, a spritz or ten of his favourite perfume and a quintessentially 1920's English stance on upholding society's decaying moral values as well as a stiff upper lip.
I never imagined Fiennes as being able to take the lead in as rich a comedy as this, but he's very much the best thing about The Grand Budapest Hotel.
All those other ingredients that we've come to know and love or loathe in a Wes Anderson film are also present and correct, from the insane detail that's gone into the sets and costumes, an animated skit or five here, a panning shot or two that show off his entirely fabricated world there, as well as a pitch perfect score and soundtrack to accompany all this.
But when all's said and done, The Grand Budapest Hotel is still an extraordinary tale of a lobby boy's station in life.
And how, sometimes, he can grandly rise above this.
Jonathan Campbell